List May 2022


A landmark in the history of of social liberation, praised by Marx
BELLERS, John (1654–1725)
Proposals for raising a College of Industry of all useful trades and husbandry, with profit for the rich, a plentiful living for the poor; and a good education for youth. Which will be advantage to the government, by the increase of the people, and their riches.
London, printed and sold by T.Sowle 1696.
Small 4to. [II],28p. Nineteenth-century half calf, back with gilt-lettered red label, marbled sides. Mild browning, upper margin closely trimmed, just touching a few page numbers. Armorial bookplate of the Macclesfield North Library 1860. (#30070)
€ 3750
Second edition, with some substantial alterations, first published the previous year. A famous publication in the history of social liberation. It was a source of inspiration for Robert Owen, who published a new edition of it in 1818, and was highly praised by Karl Marx.
Perhaps inspired by Plockhoy's
A way propounded to make the poor in these and other nations happy
(1659) Bellers here designs a complete plan for the organization of industry and labour. He proposes the founding of 'colleges of industry', agricultural and manufacturing co-operative settlements to enable the poor to care for themselves. Colonies of at least 300 people would have collective capital and labour, and not money but labour would be the standard of value, thus giving a draught for a labour theory of value. Family life would be private - he therefore uses the term colleges rather than communities - and much attention would be paid to education. It would be beneficial to the poor, enabling them to care for themselves, as well as to the rich and the state, no longer forced to support the poor.
Marx refers to Bellers in
Das Kapital
several times. He calls Bellers 'a very phenomenon in the history of Political Economy, [who] saw most clearly at the end of the 17th century, the necessity for abolishing the present system of education and division of labour, which beget hypertrophy and atrophy at the two opposite extremities of society'.
*Wing B1830. Kress 1932. Goldsmiths' 3369. McCulloch p.275.
---
The most important coin book of the German Renaissance
[BERG, Adam
(1540-1610)
]

New Müntz Buech. Darinen allerley gross unnd kleine, silberne und guldene Sorten, umb wichtiger Ursach willen also fürgestelt werden ... Und dann wirt auch ein Dialogus oder Gespräch, zwischen dem Gelt und der Armut mit angehängt ... Neben disem allen wirt auch mit einbracht, was die Müntzen in altem Testament gewest, und was sie golten ...
Gedruckt zu München [Munich], bey Adam Berg 1604.
Folio. [8],80,[12],[10] lvs. Title printed in red and black. With hundreds woodcuts of coins, the gold coins coloured orange or yellow. Seventeenth-century French half calf, gilt back, extremities little worn. Bookplate of 'Bibliothèque d'Yves Guermont, Prieuré de Rozérieulles, Abbaye de Mouzon' to front paste down. A few marginal stains and tears but generally fine. (#29352)
€ 2250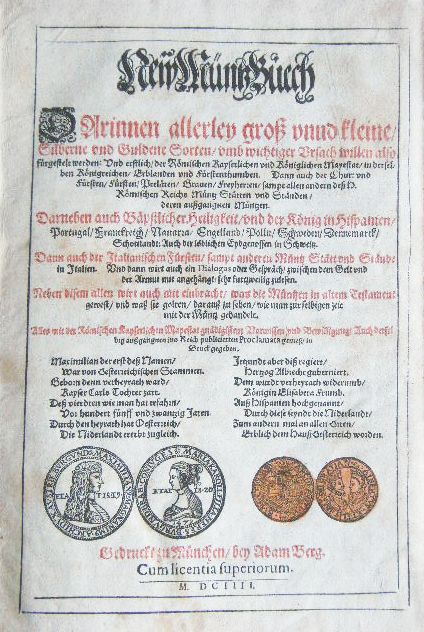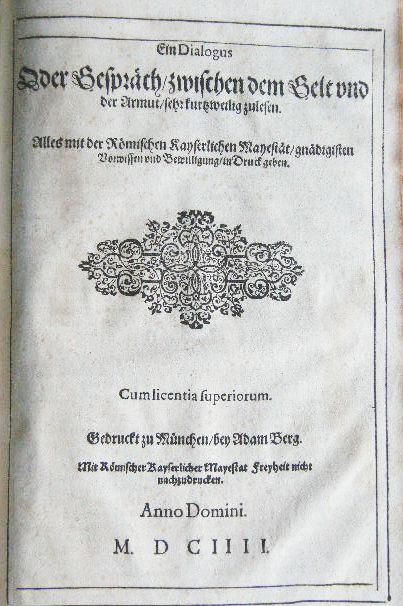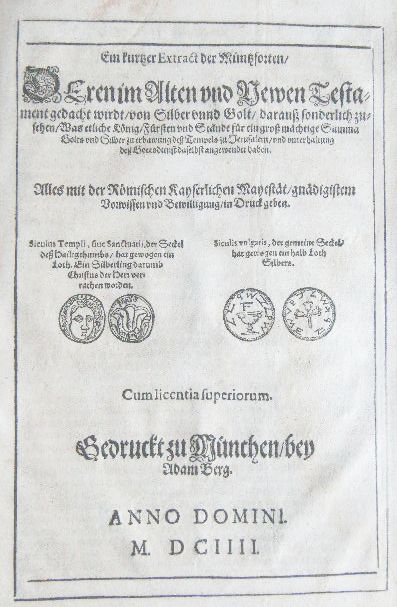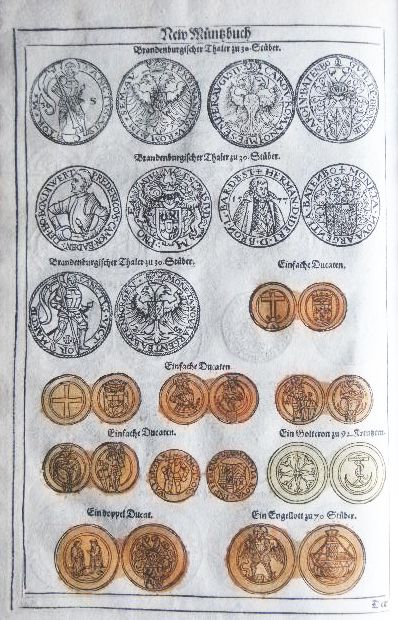 Second edition, first published by the same printer in 1597. The most important coin book of the German Renaissance, including the coins of the Holy Roman Empire, the Papal States, Spain, Portugal, France, Navarre, England, Poland, Sweden, Denmark, Scotland, Switzerland, and the Italian states. The second part, translated as Dialogue between money and poverty, is one of the earliest criticisms of capitalism.
The verso of the penultimate preliminary leaf has a catch-word 'Pro-', the following leaf is unprinted. This agrees with the digitalized copy found in Google Books. The blank leaf is here used for a manuscript alphabetical geographical index.


---
BLOCH, Jean de [Jan Gotlib]
(1836-1902)
La guerre. Traduction de l'ouvrage russe, la guerre future aux points de vue technique, économique et politique.
Paris, Imprimerie Paul Dupont [volume 1], Guillaumin [volume 2-6] 1898-1900.
6 volumes. With numerous ills, plans, tables, etc. in the text and on (partly folding) plates. Contemp. half cloth, not quite uniform, marbled sides, a few backs stained, bookplate to front paste-downs, some minor imperfections. (#36914)
€ 3000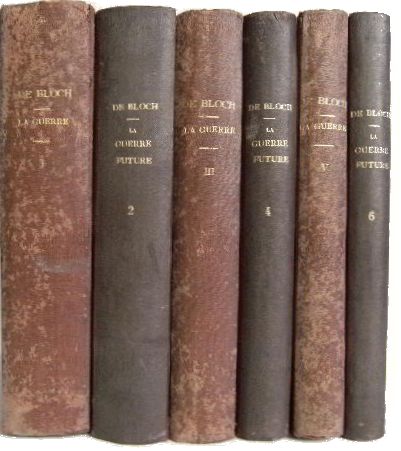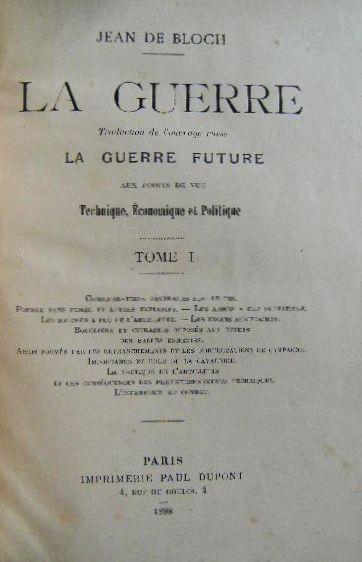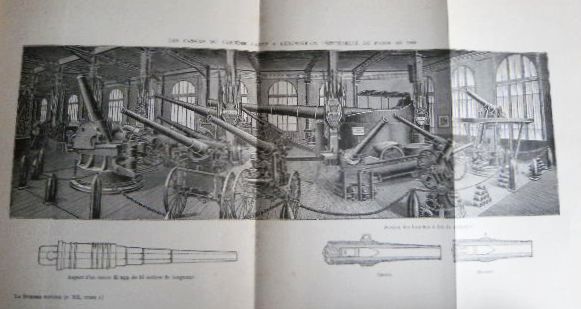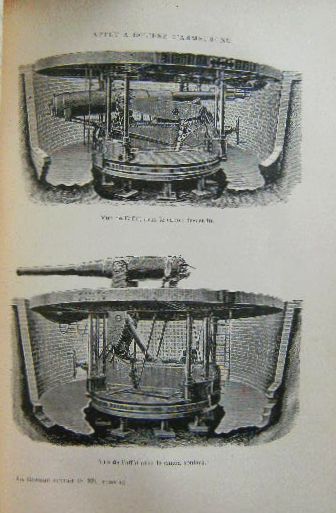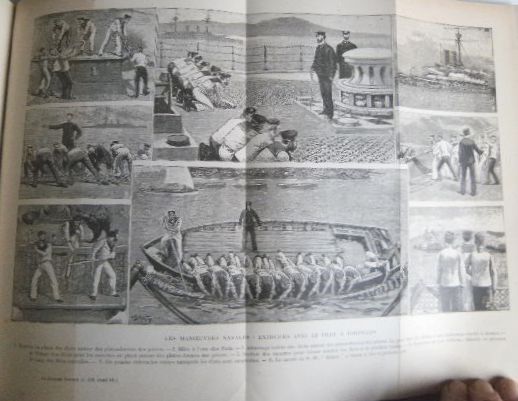 First French edition. Originally published in Russian as Budushchaya voina i yeyo ekonomicheskie posledstviya the previous year and translated into German in 1899. A much abridged English edition Is war now impossible? was also published in 1899.
The author was a Polish-Russian banker and entrepreneur who much contributed to the development of the Russian railway system. Though born Jewish and converted to Calvinism he was an ardent opponent of the antisemitic policies of the Tsarist government and sympathized with Zionism.
His exhaustive work on the technical, economic and political aspects of war and his untiring crusade for peace has gained him the nickname 'the father of contemporary pacifism'. He was widely regarded as the spirituel father of the first Peace Conference at The Hague in 1899.
The work is constituted as follows: 1. Considérations générales sur le tir [etc]. 2. La guerre sur le continent. 3. La guerre navale. 4. Les troubles économiques et les pertes matérielles que déterminera la guerre future. 5. Les efforts tendant à supprimer la guerre, les causes des différends politiques, les conséquences des pertes. 6. Conclusions générales. Le système du militarisme. Pour et contre la possibilité de résoudre les conflits entre états européens. L'organisation d'un tribunal international. Conclusion.
*P. van den Dungen, A bibliography of the pacifist writings of Jean de Bloch, 1977.


---
[BOESNIER DE L'ORME, Paul
(1724-1793)
]

Du rétablissement de l'impot dans son ordre naturel.
Yverdon 1769.
23,[1],148,[3]p. Contemp. calf, back richly gilt with red label, marbled edges and endpapers. Nice early 20th-century bookplate to front paste-down and name of the same owner very small in corner of first blank. (#30933)
€ 2250

First edition. The author, best known by a volume De l'esprit du gouvernement economique (1775), developed physiocratic ideas independently from the school and without having knowledge of their publications. In the present very rare volume he advocates a system of taxation based upon the value of the land.
'Les véritables principes de l'impôt tels que les dépeignent les écrits physiocratiques. Tous les impôts indirects retombent sur les revenus des proprietaires des bien-fonds. Une meilleure forme d'imposition serait une répartition proportionnelle à la valeur des fonds' (INED).
*INED 551 bis. Goldsmiths'-Kress 10554. Kress 6630. Einaudi 578.

---
[BOISSEL, François (1728-1807)]
Le catechisme du genre humain, que, sous les auspices de la nature & de son véritable auteur, qui me l'ont dicté, je mets sous les yeux & la protection de la nation françoise & de l'Europe éclairée, pour l'établissement essentiel & indispensable du véritable ordre moral, & de l'éducation sociale des hommes, dans la connoissance, la pratique, l'amour & l'habitude des principes & des moyens de se rendre & de se conserver heureux les uns par les autres.
[No place, no publisher] 1789.
206p. With on the verso of the title errata and a notice that this book was ready to be printed 'two months before the miraculous & for ever memorable day of the assault of the Bastille'. Uncut in fine recent calf-backed marbled boards, gilt back. (#16341)
€ 1250
First edition. A violent rejection of the existing social order in which the author holds that the three basic principles of present society: property, marriage and religion, violate the rights of nature. In the form of a catechism he argues for the restauration of the natural order by means of education, aiming at the equality of men and the community of goods. He thus holds pre-communist views much resembling those of Babeuf. A second edition of this appeared in 1792.
*Martin & Walter I,3846. Monglond I,c.313. INED 578. Not in Kress, Goldsmiths' or Einaudi. Lichtenberger p.52.
---
BREEN, Daniel van [de] (1594-1664)
Verklaring over het boek des H. Jobs, en der Openbaring des apostels Johannes. Door Frans Kuyper uyt het Latijn vertaalt ... Mitsgaders des zelfs boek van het Triumferend ryk onzes zaligmakers Jesus Christus: den tweden druk ...
t'Amsterdam, voor Frans Kuyper 1666.
3 works in 1 volume. 4to. [X],16,140, [XIV],146, [VIII],166,[28]p. Contemp. overlapping vellum, somewhat dust-soiled. Dampstain in corner of a few quires. (#32595)
€ 900
First Dutch editions of the first two works and second Dutch edition of the third work. They are here issued together with their own title pages to which a general title was added. These Dutch editions were revised and expanded by both the author and the translator; the latter also added a preface.
Daniel van Breen (or Daniel de Breen) was a Socianian theologian, a pupil of the remonstrant leader Simon Episcopius, and a member of the heterodox Collegiants in Amsterdam. The third work is his best knownbook, a chiliastic work on the coming realm of Christ. An earlier Dutch edition appeared 1653, a Latin edition with the title
Tractatus de regno Ecclesiæ glorioso per Christum in terris erigendo
in 1657.
The translator Frans Kuyper (1629-1691), also known as Franciscus Cuperus, a nephew of Van Breen, was also the publisher of the volume. He acquired some fame as the publisher of the Socinian
Bibliotheca Fratrum Polonorum
, forbidden by the States of Holland in 1674. He was also a member of the Collegiants and, though critical towards the ideas of Spinoza, also accused of Spinozistic sympathies. His conflict with another critic of Spinoza, Johannes Bredenburg, is now considered as the first public debate about Spinoza's philosophy.
P.Knijff & S.J.Visser,
Bibliographia sociniana
3046.
---
[BURCH, Johan van der (1672-1758)]
Kort beright van de meeste redenen en middelen daer op gefundeert sijn de in een deductie breder vermelde vierderlye concept-middelen, alle tenderende omme in plaetse van de honderste penningen een ander middel te introduceren, waer door 't gemeyne landt het aequivalerende montant van de gerequireert wordende honderste penningen soude geworde ...
Te Dordrecht, gedrukt by Joannes van Braam [1703].
4to. [X],74p. No binding. (#25844)
€ 750
First edition. A proposal to replace the hundredth penny a.o. by the formation of an annuity fund, to meet the financial needs of the war. The author came from an old regent family and was for a time a member of the city government of Dordrecht. He published several works on lotteries and annuities, including polemics with Willem Kersseboom.
M. van Haaften has dated this 1703, based on internal evidence.
*NCC records two copies dated 1712 (KB and UVA), one copy dated 1704 (BL), and two copies (IISG and NYPL), with a slightly different title, dated 1709. M. van Haaften, 'Van der Burch's Kort beright betreffende lijfrenten uit 1703', in
De Verzekeringsbode
, 11 juli 1952.
Bouwstoffen voor de geschiedenis van de levensverzekeringen en lijfrenten in Nederland
, p.155-165.
---
Of great influence on the making of the American constitution
BURLAMAQUI Jean Jacques (1694-1748)
Principes du droit naturel. [With:] Principes du droit politique.
A Geneve, chez Barrillot 1747-1751.
2 volumes. 4to. XXIV,352; [II],IX-XII,380p., thus complete. Contemp. calf, backs richly gilt with label, red sprinkled edges. Top of back of second volume with some worming, else a very nice set. (#38908)
€ 2500
First edition of both volumes. Particularly the second volume is extremely rare in this posthumously published original edition. It was clearly issued as a second volume to the first work, with a caption title
Table des chapitres contenus dans ce second volume
. Both works were many times reprinted, mostly as separate works in two octavo volumes, and translated into several languages.
Burlamaqui was an ardent advocate of freedom of conscience and tolerance. His works exercised great influence on the making of the American constitution. 'His understanding of checks and balances was much more sophisticated and practical than that of Montesquieu, in part because Burlamaqui's theory contained the seed of judicial review ... He was the first philosopher to articulate the quest for happiness as a natural right, a principle that Thomas Jefferson later restated in the Declaration of Independence.'
Burlamaqui was professor of law at the university of Geneva and a member of the council of state of the city. He was also the eminent editor of works of Grotius and Pufendorf.
*
En français dans le texte
15.
---
CAPELLEN VAN DE MARSCH, Robert Jan van der (1743-1814)
Mémoires du baron de Capellen de Marsch, membre de l'ordre équestre du Comté de Zutphen et des Etats souverains du Duché de Gueldre, député extraordinaire à l'Assemblée de leurs Hautes-Puissances les Etats-généraux des Provinces-Unies. Condamné à perdre la tète, par une sentence de la Cour de Gueldre, du 8 Août 1788, après le bouleversement de la République par les troupes Prussiennes. Traduit du Hollandois.
Paris, de l'imprimerie de H.J.Jansen 1791.
[II],530,[2]p. Nineteenth-century red morocco, back richly gilt, gilt floral borders, gilt edges (sd. L.Peeters, Antwerp). Half-title and corner of quires N-P with waterstain. (#32174)
€ 350
First French edition. The author was a Dutch patriot, one of its leaders in the province of Gelderland, and a cousin of the famous patriot leader Joan Derk van der Capellen tot den Pol. After the restoration of 1787 he fled to France and in 1788 was sentenced to death for high treason by the Court of Gelderland. As from page 177 a great number of documents. A Dutch edition appeared the same year in Dunkirk and a second French edition in 1793.
---
CHIJS, Jacobus Anne van der Chijs(1831-1905)
Neêrlands streven tot openstelling van Japan voor den wereldhandel. Uit officieele, grootendeels onuitgegeven bescheiden toegelicht.
Amsterdam, Frederik Muller 1867.
XIV,530,[2]p. Fine recent cloth, gilt-lettered back, orig. printed front cover laid down. Afew leaves foxed. Fine copy. (#32183)
€ 1250
First (only) edition. A history of the Dutch role in opening Japan to world trade based upon a great number of documents.
Appended are the following pieces:
Geschiedenis der afschaffing van den Komps- en Kambanghandel, Geschiedenis van het Nederlandsche marine-detachement in Japan, Wederlegging van het medegedeelde over de Nederlandsche politiek jegens Japan in: Perry: Expedition to Japan, Japansche publicatiën naar aanleiding der additionele artikelen, Chronologisch overzigt
, and
Over het gebeurde van 1862 tot 1866
.
*Cordier c.588.
---
One of the major books in the history of probability theory
DEPARCIEUX, Antoine (1703-1768)
Essai sur les probabilités de la durée de la vie humaine; d'où l'on déduit la manière de déterminer les rentes viageres, tant simples qu'en tontines: précédé d'une courte explication sur les rentes à terme, ou annuités; et accompagné d'un grand nombre de tables.
Paris, Guerin 1746.
[VI],[2 approbation, errata, avis au relieur],132p. (including a table on p.102), 22 tables (table 3 on 3 pages, table 4 on 2 pages, tables 6-13 double-page, tables 16-21 half-page), [1 privilege du roi]p. Bound with two additional pieces. (#29011)
€ 2000
Together 3 works in 1 volume. 4to. Contemp. calf, rubbed, extremities worn, joints cracked but holding, gilt back with red label, red edges, marbled endpapers. Small corner (2 cm) of half title torn away. Small armorial blank stamp ('Charles Anderson') in corner of first blank and half-title. The usual light browning. A very good copy with ample margins.
First (only) edition, with the
Objections
and
Addition
, rarely found together. The
Essay on the probabilities of the duration of human life
is one of the major books in the history of statistics and probability theory. Deparcieux had studied various schemes for life insurance, including that developed by the Neapolitan banker Lorenzo de Tonti, whereby upon the death of a participant his share (or only its dividends) is distributed to the remaining members. For the construction of mortality tables Deparcieux studied the life expectancy of members of restricted groups like religious communities, in order to exclude the effects of migration. His tables were used in France for decades.
Deparcieux was a scientist and mathematician, member of the French Academie des Sciences and professor at the Collège de France. He was also a mechanical engineer with particular interest in hydrodynamics and as such best known for his project for the supply of water for Paris, the Canal de l'Ourcq, carried out during the Empire.
Followed by
:
Objections
faites à M. Deparcieux ... sur son Livre des probabilités ... avec les réponses à ces objections [drop title]. [No place or date, privilege at end dated 1746.] 16p.
Followed by
:
Addition
à l'Essai sur les probabilités de la durée de la vie humaine ... par M.Deparcieux. Paris, H.L.Guerin & L.F.Delatour 1760. 32,[3]p., including 4 tables.
*Kress 4801 and 4801a. Einaudi 1529. INED 1346. McCulloch p.246.
---
[DUNNING, John, Baron Ashburton]
Verdeediging der O.I.Comp. van Engeland, en haarer bediendens, dien van Bengale byzonderlyk, tegens de klagten van de Hollandsche O.I.Comp.; of memorie der gemelde O.I.Comp. van Engeland, desaangaande voorgedraagen aan Zyne Maj. den Koning van Grootbritanje, den 3 Februari 1762: met de bewyzen daartoe behoorende, door Hoog Gezach openbaar gemaakt. Uit het oirspronglyke in het Neerduitsch vertaald.
's Hage [The Hague], by Pieter de Hondt 1762.
[IV],157p. With folding sketch plan (p.135). Uncut in contemp. marbled wrappers. (#10960)
€ 375
First (only) Dutch edition, a translation of 'A defence of the United Company of Merchants of England, trading to the East-Indies, and their servants, (particularly those at Bengal) against the Complaints of the Dutch East-India Company: being a Memorial from the English Company to His Majesty on that subject'. It was drawn up on behalf of the English East India Company to justify their actions against the Dutch after the latter's failed attempts in 1759 to increase their power in Bengal at the expense of the English.
*Knuttel 18848. Landwehr 164.
---
EDGEWORTH, Francis Ysidro
(1845-1926)
Mathematical psychics. An essay on the application of mathematics to the moral sciences.
London, C. Kegan Paul & Co. 1881.
VIII,150p. Later blue cloth, back with two gilt-lettered black labels, yellow unprinted wrappers (front with a small repair) preserved. Bookplate to front paste-down, small blind stamp to corner of title, small printed number stamp at foot of page V and another stamp at top of page 99. (#35137)
€ 6500

First edition. Edgeworth's most important work 'a quantitative application of utilitarian ethics to economic life ... it was a deep and elusive work, which even went over the heads of many of his colleagues ... Its use of indifference curves caught on only slowly and that of the 'core' of an exchange economy has only recently attracted attention as a result of developments in games theory.'
'Edgeworth was an economists' economist: almost the whole of his literary output was addressed to his fellow economists, taking the form of elegant technical essays on taxation, monopoly and duopoly pricing, the pure theory of international trade and the theory of index numbers'.
*Einaudi 1716. Mattioli 1121. M.Blaug, Great economists before Keynes, p.69.

---
FLUSSER, Emil
(1888-1942)
Krieg als Krankheit. Geleitwort von Albert Einstein.
Heide in Holstein, Paul Riechert 1932.
[VIII],150p. Orig. printed wrappers, frayed at margins with minimal loss. (#15569)
€ 275

First (only) edition. Flusser was a Jewish physician from Bohemia. He worked as a pediatrician and in WW1 served in the Austrian army. With the publication of the present volume Flusser became a pioneer of the medical peace movement. Shortly after its publication it was burned by the Nazis and only few copies survived. There are a few copies in German libraries and none found in WorldCat.
'Flusser saw war as a psychic epidemic, a manifestation of mass psychosis in which the faculties of reason and will power are greatly reduced while the effects are inordinately enhanced. He elaborated on the principal endogenous and exogenous causes of the illness which are responsible for war, and regarded the human propensity to form a collective, the herd instinct, and the group's susceptibility to affects, as the most important of the endogenous causes.'
*Peter van den Dungen, A forgotten precursor of the medical peace movement, (Fred.dk).

---
[FORBONNAIS, François Véron de (1722-1800)]
Examen des avantages et des desavantages de la prohibition des toiles peintes.
A Marseille, chez Carapatria 1755.
12mo. 127p. Contemp. calf, gilt back with red label, marbled endpapers, red edges, back and corners little worn. Bound with two other works. (#30744)
€ 1250
First edition, rare. The importation and manufacture of printed or painted cloth was forbidden in France in 1686, at the instance of the wool and silk industry. Forbonnais here investigates the arguments for and against the prohibition. He favours a liberal policy, but a 'libéralisme dirigé'. Pages 72-90 are taken by 'Observations sur l'Examen', attributed to Vincent de Gournay.
*INED 4426. Goldsmiths' 9026. Mattioli 1303. Not in Kress or Einaudi.
Bound with:
[François Véron de FORBONNAIS]
Essai sur l'admission des navires neutres dans nos colonies [caption-title]. [No place, no publisher 1756 or 1759.] 107p.
First edition. Forbonnais here argues for a conditional admission of merchant ships of neutral countries to France's colonial ports in the interests of commerce. It is the first part of
Divers mémoires sur le commerce
published the same year.
*INED 4424 (1759). Goldsmiths' 9481 (1759). Kress 5516 ('Divers mémoires', 1756). Not in Einaudi or Mattioli. BnF (FRBNF31564872) dates this 1756.
And with:
Jerome BELLONI
(1688-1760) Dissertation sur le commerce. Traduite de l'italien par Mr. A*** [François Morénas]. A La Haye, aux depens de la Compagnie 1755. 72p.
Second French edition. Originally published in 1750 as
De commercio ... Dissertatio
.
*Kress 5419. Goldsmiths' 9014.
---
FOUCAULT, Michel (1926-1984)
Folie et déraison. Histoire de la folie à l'âge classique.
Paris, Librairie Plon 1961.
[VI],XI,[1],672,[2 table],[12]p. Orig. printed wrappers. Fine, entirely unopened copy. (Civilisations d'hier et d'aujourd'hui) (#23293)
€ 600
First edition of Foucault's doctoral thesis. Translated as 'Madness and insanity. History of madness in the classical age' it 'discussed how West European society had dealt with madness, arguing that it was a social construct distinct from mental illness'
---
FRIEDMAN, Milton (1912-2006)
Essays in positive economics.
[Chicago], The University of Chicago Press [1953].
VI,328p. Orig. cloth, top edge red, with dust jacket, unclipped and with only minimal wear to top margin. A very fine copy in fine jacket. (#38977)
€ 900
First edition. 'The essays in this book deal with three major topics: methological issues in economic analysis, the theory of demand, and monetary theory and policy. They have as a common core a conception of economic theory as a positive tool for the analysis of concrete problems' (dust jacket). The first essay
The methodology of positive economics
has been called 'the most influential work of economic methodology of this century'. The other essays deal with price theory, monetary theory and policy, and comments on method.
---
HAHN, Philipp Matthäus (1739-1770)
Beschreibung einer Rechnungs-Maschine, wodurch man ohne Mühe, durch blosse Herumführung eines Triebels, die vier gewöhnlichen Rechnungs-Arten verrichten kann. [In:] Der Teutsche Merkur vom Jahr 1779. Zweites Vierteljahr, p.137-154.
Weimar 1779.
The whole volume: 2 volumes in 1. 287,[1], 287,[1]p. With 2 folding musical scores. Contemp. blue boards. Stamps to title. Foxing. (#32631)
€ 2000
First appearance of the description of the author's famous mechanical calculating machine, 'the first fully functional popular four-species mechanical calculating machine' The description was already announced by the editor of the
Teutsche Merkur
, Christoph Martin Wieland, on page 194 of the first part of this volume.
At length: history-computer.com/MechanicalCalculators/18thCentury/Hahn.
---
[HEY, Johannes van der
(1726-1812/13)
]

Memorie aan de respective heeren commissarissen van de Generale Nederlandsche Lyfrenten Compagnie.
[No place or printer 1780.]
Folio (33 x 21 cm). 40p. Worn old wrappers. Once folded, vague stamp on title.
Added
:
Reglement
der geredresseerde Generaale Nederlandsche Lyfrente-Compagnie. Ingegaan den eersten Mey 1781. [No place or printer 1782.] Folio (33 x 21 cm). XXI,[13]. With 2 folding tables. Very worn old wrappers, once folded, vague stamp on title. (#20414)
€ 450

Two pieces regarding the General Dutch Annuity Company, founded by Johannes van der Hey in 1767, when he united several other similar companies he had founded since 1759.
The company initially prospered but after a few years the profits of the company went into decline. By the end of the next decade losses showed untenable and Van der Hey was accused of mismanagement and theft. In the first piece Van der Hey defended his own acting, he denied that there were irregularities in his accounting and that his attempts to rescue the company were deliberately sabotaged. The second piece gives the regulations of the company after it was 'redressed' in 1780. Also this new company collapsed in 1796.
*NCC records a few copies of the first item and only one (IISG) of the second. For Van der Hey see Bouwstoffen voor de geschiedenis van de levensverzekeringen en lijfrenten in Nederland, p.327-332.

---
HOGENDORP, Gijsbert Karel van
(1762-1834)
Memorie over den tegenwoordigen staat van den handel en de culture in de Oost-Indische bezittingen van den staat.
Te Amsterdam, by de wed. J.Doll 1804.
192,8p. Uncut in contemp. sprinkled boards. (#31796)
€ 350

First edition. A plea for a new colonial policy for the Dutch East Indies. The author rejects the contract trade with native princes and argues for free trade with other nations. It appeared after the liquidation of the East India Company as a sequel to the author's Brieven aan eenen participant in de Oost-Indische compagnie of 1802-03.
Gijsbert Karel was the younger brother of Dirk van Hogendorp, also well-known for his fight against the desastrous policy of the Company. He held conservative liberal ideas and is best known as part of the triumvirate that established a constitutional monarchy in the Netherlands in 1813.
A notice below the imprint states the book was 'not for sale'.

---
HUME, David
(1711-1776)
Vier Abhandlungen. 1. Die natürliche Geschichte der Religion. 2. Von den Leidenschaften. 3. Vom Trauerspiel. 4. Von der Grundregel des Geschmacks. Aus dem Englischen übersetzt.
Quedlingburg und Leipzig, bey Andreas Franz Biesterfeld 1759.
Small 8vo. [XVI],280p. Title with an engraved illustration of a lumberjack at work. Fine modern half calf, black label, marbled sides, new endpapers, red edges. Mildly browned as may be expected, stamp on title and verso, old owner's entry to last blank. (#28540)
€ 900

First (only) German edition. Originally published in 1757 as Four dissertations. I. The natural history of religion. II. Of the passions. III. Of tragedy. IV. Of the standard of taste. The translation has been attributed to Friedrich Gabriel Resewitz.
*Jessop p.36 falsely states that this is a reprint of an edition of 1755(!)

---
HUTCHESON, Francis (1694-1746)
La philosophie naturelle, civile et morale. Traduction libre de l'Anglois.
A Lyon, chez Regnault 1770.
2 volumes. 12mo. [II],XX,592; [IV],IV,545,[1]p. Contemp. calf, gilt backs with labels, marbled endpapers, red edges. First and last blanks stained. (#20404)
€ 1250
First French edition of
A system of moral philosophy
, translated by Marc Antoine Eidous. It is the book by which the author is remembered as one of the founding fathers of the Scottish Enlightenment, and of great influence on a.o. Adam Smith and David Hume. It had been completed as early as 1742 but published posthumously by Hutcheson's son in 1755. A German translation appeared already the next year.
Hutcheson's admiration for and influence on Adam Smith can hardly be overestimated. Smith referred to him as 'the never to be forgotten Hutcheson', a title he used to describe only two people, his friend David Hume and his influential mentor Francis Hutcheson. W.R.Scott already in 1900 wrote that 'the order of topics discussed in the economic portion of Hutcheson's
System
is repeated by Smith in his
Glasgow Lectures
and again in the
Wealth of Nations
'.
*Jessop p.146. Palgrave II,p.347.
---
[ISELIN, Isaak (1728-1782)]
Philosophische und politische Versuche.
Zürich, bey Orell und Compagnie 1760.
Small 8vo. XV,[1],318,[1 errata]p. With engraved title-vignette and several decorated initials and head- and tail-pieces. Contemp. half calf, somewhat rubbed, marbled edges. Nice bookplate to front paste-down. Bound with another work (see below). (#34290)
€ 750
First edition. A collection of essays on the concept of the state, its duties and responsibilities and its relation with society and the responsibilities of its individual members. Iselin was a Swiss historian, political philosopher and economist. He was also the editor of the German economic journal
Ephemeriden der Menschheit
which soon gained a great reputation and counted among its contributors many of the most eminent German economists. He converted to the ideas of the physiocrats in the early 1770's.
*Not in Kress, Goldsmiths' or Einaudi. Palgrave II,p.459.
Preceded by
: [Friedrich Karl von Moser], Der Herr und der Diener geschildert mit patriotischer Freijheit. Franckfurt, Johan August Raspe 1761. [VIII],422p. With engraved title and frontispiece. Until page 24 with niggling corrections.
---
JUGLAR, Clement
(1819-1905)
Des crises commerciales et de leur retour périodique en France, en Angleterre et aux Etats-Unis. Deuxième édition.
Paris, Guillaumin 1889.
XX,560p. With 17 mostly double-page tables and 7 large folding tables at end. Finely bound in recent half morocco, marbled sides and endpapers, t.e.g., orig. printed wrappers (stained and with some repairs) preserved. (#24403)
€ 1500

Second, considerably enlarged edition of a pioneering work on business cycle analysis, originally published in 1860. In this second edition Juglar continues his study of industrial fluctuations up to 1882. Though Juglar was a physician by training, like Quesnay, 'he must be ranked, as to talent and command of scientific method, among the greatest economists of all times'.
*Einaudi 3095. Mattioli 1762. New Palgrave II,p.1037. Schumpeter p.1123.

---
KELSEN, Hans (1881-1973)
Reine Rechtslehre. Einleitung in die rechtswissenschaftliche Problematik.
Leipzig und Wien, Franz Deuticke 1934.
Large 8vo. XIV,[2],236p. Orig. printed wrappers. Fine copy. (#22490)
€ 750
First edition. Kelsen's main statement of his theory of law that became one of the major books on law of the twentieth century. It was written while in Swiss exile and immediately translated into English as
Introduction to the problems of legal theory
by Bonnie Litschewski Paulson and Stanley L. Paulson. A much expanded second edition, effectively a different book, appeared 1960.
---
KOUMANS, Pieter (1730-1779, publisher/printer)
Verklaring van allerhande zo goude, als zilvere, en andere geld-specien; ook van dingen, die voor geldt in gebruik zyn, alsmede van versierde munten. Twede druk: de helft vermeerdert. Waar by gevoegt een aantekening van eenige personen, die tot den ouderdom van 100 jaren en daar boven gestegen zyn. Alsmede enige waarnemingen van 't jaarlykse sterfgetal der menschen, enz. in zommige vorstendommen en voorname steden van Europa.
Te Leeuwarden, gedrukt by Pieter Koumans 1746.
Small 4to. [VIII],99p. Later marbled thick boards. Stamps on title and edges. (#25447)
€ 300
Second edition. The first part is an alphabetically arranged dictionary of all kinds of gold and silver coins and 'things that are used for money', mostly with their origin and value. The second part (p.79-99), here printed for the first time, gives a chronologically arranged list of some 50 people died at or over over the age of 100, taken from historical sources. This is followed by some figures on the death rates, baptized children, marriages, etc. in various European places.
A third edition was published in 1780, with additions to the first part, but without the second part of the present second edition. We could not find a first edition of this title.
---
A precursor of John Law
LA JONCHERE, Etienne Lecuyer de (1690-1740?)
Système d'un nouveau gouvernement en France. Seconde edition.
A Amsterdam, chez François le Bon 1720.
4 volumes in 1. 12mo (15,5 x 9 cm). [II],30,[2],96; [II],156; [II],192; [II],200,[4]p. With 4 folding tables (small tear in 2 tables). Contemp. calf, gilt back with red label, few old neat repairs, little rubbed. A few spots and some light staining, old name on title. (#23187)
€ 5000
A notoriously rare proposal for financial and governmental reforms similar to the scheme of John Law. The extreme rarity of this book has been explained by Law's eagerness to destroy as many copies as he could find to hide the fact that much of his own ideas were contained in this book.
'[La Jonchère] advocates one sole tax, to be paid without privilege or exemption, by all Frenchmen without distinction, to consist of a percentage collected in money or in kind, on the general produce of the ground, mines, quarries, etc., by a 'Compagnie du Commerce', to be formed for the purpose. This company was to have the monopoly of foreign trade, its shares being given as reimbursement of the price of all the offices sold by the king's predecessors and of the capital of the rents due to towns or individuals. The corn collected by the company was also to be entrusted with the recoinage and 'diminuations' of the metallic currency, which were to bring it down to what La Jonchère calls 'its intrinsic value'.'
The mention of 'Seconde edition' is probably fictious. WorldCat does not locate any copy printed before 1720. The 1970 EDHIS reprint also from this 'second' edition. The name and place of the publisher are probably fictious as well.
*INED 2517. Not in Kress, Goldsmiths', Einaudi or Mattioli. Palgrave I,p.537.
---
LA VALETTE, Charles Jean Marie Félix, marquis de
(1806-1881)
Les établissements généraux de bienfaisance placés sous le patronage de l'Impératrice. Maison des Quinze-Vingts. Hospice du Mont-Genèvre. Maison de Charenton. Institution des sourds-muets de Paris. Institution des jeunes aveugles. Institution des sourdes-muettes de Bordeaux. Asile Impérial de Vincennes. Asile Impérial du Vésinet. Institution des sourds-muets de Chambéry. Monographies présentées à Sa Majesté ...
Paris, Imprimerie Impériale 1866.
Large folio. XXIV,394p. With and engraved portrait of the Empress Eugenie at head of the dedication, and 39 engraved plates (partly on China paper, 2 in colour), of which 15 are floor plans (6 double-page) and 9 views of the various institutions etched by Léon Gaucherel. Contemp. half morocco, gilt back in compartments, marbled sides and endpapers. Some foxing spots. (#40014)
€ 2000

A monumental publication with comprehensive descriptions of nine of the most important charitable institutions of France, with details about their history, administration, medical care, finance, architecture, etc. It was published under the responsibility of the marquis de La Valette, diplomat and at the time France's Minister of the Interior, and dedicated to the Empress Eugenie, wife of Napoleon III, to commemorate that she was appointed patroness of these institutions.
Most of these institutions had a long history. The Maison des Quinze-Vingts (or Hôpital des Quinze-Vingts) was founded in 1260 by Saint Louis to support 300 (15 x 20) poor blind people, both man and women. Originally housed in the rue Saint-Honoré it moved to the caserne des Mousquetaires-Noirs in the rue de Charenton in 1779. It merged with the institute for the blind founded by Valentin Haüy and moved to the boulevard des Invalides in 1843. Its buildings nowadays are in use by the eye hospital Centre hospitalier national d'ophtalmologie.
The Hospice du Mont-Genèvre near Briançon was founded in the 14th century to provide refuge to travellers crossing the Pyrenees, night and day and free of charge. The Maison de Charenton was founded in 1641 by the Frères de la Charité to support poor sick people. In the nineteenth century it became a mental hospital with Jean-Etienne Esquirol as its director.
The Institution des sourds-muets de Paris was founded in 1760 by Charles-Michel de l'Epée and became the world's first free school for the deaf. It is nowadays known as the Institut national de jeunes sourds de Paris. The Institution des sourdes-muettes de Bordeaux cared specifically for deaf girls. The Institution des jeunes aveugles was founded in 1784 by Valentin Haüy and gave education to blind boys and girls. The Asile Impérial de Vincennes and the Asile Impérial du Vésinet were founded by Napoleon III and offered care for sick workers and victims of accidents.



---
the Tolpuddle Martyrs
LOVELESS, George (1797-1874)
The victims of Whiggery; being a statement of the persecutions experienced by the Dorchester labourers; their trial, banishment, &c. &c. also reflections upon the present system of transportation; with an account of Van Dieman's [sic] land, its customs, laws, climate, produce, and inhabitants. Dedicated (without permission) to Lords Melbourne, Grey, Russell, Brougham, and Judge Williams. Second edition.
London, published under the direction of the Central Dorchester Committee, by Effingham Wilson 1837.
32p. Recent blank vellum. A few brown spots but a very good copy. Upper margin of last 2 leaves cut short affecting page numbering only. (#15059)
€ 2500
A milestone in the history of British trade unionism. George Loveless and his comrades 'had struck a blow from which the opposition to trades unionism never recovered and the 'Tolpuddle Martyrs' are saints in the trade union hagiology'.
In the early 1830's a group of six agricultural labourers from Tolpuddle near Dorchester led by George Loveless formed a Friendly Society of Agricultural Labourers to fight for higher wages. Although trade unions were not forbidden since the Combinations of Workmen Act of 1825 they were accused of swearing secret oaths, thus violating an obscure and obsolete Unlawful Oaths Act of 1797. They were found guilty and sentenced to transportation for seven years to Australia. Growing popular protest - almost a million people signed a petition and 50.000 people marched in London for their release - resulted in their full pardon in March 1836.
The present publication is largely devoted to an account of Loveless' transportation (due to illness he left later than his comrades) to Australia, with details on the hard conditions aboard transports and the dangers of the voyage. He arrived in Hobart on Van Diemen's Land (Tasmania) on 4 September 1833. He first worked in irons on the roads and later as a shepherd and stock-keeper with some privileges. After the pardon he returned to England in June 1837. He became an active Chartist and in 1844 emigrated to Canada.
This went through at least eight editions in 1837 and 1838. All editions seem rare.
*Kress has the present second edition only C.4422. Goldsmiths' 30126.
Printing and the mind of man
305.
---
MAFFEI, Scipione
(1675-1755)
Consiglio politico finora inedito presentato al governo Veneto nell'anno 1736.
Venezia, dalla Stamperia Palese 1797.
125,[2]p. Contemp. tinted boards. Library stamp on title and small shelfmark on 2 following pages, some staining. (#38023)
€ 300

First (only) edition. Advices for the rulers of Venice, written as early as 1736 after a trip through England, Holland and Germany. It could not be printed because of its sharp criticism of the present system of government, but it had circulated in manuscript. Maffei's emphasis on the need of reform, the extension of the participation of its citizens and the separation of powers has made him ranked among the forerunners of Montesquieu.
Maffei is best known as an antiquarian, chiefly concerned with Etruscology and as a playwriter, but he also wrote on religious matters and a variety of other subjects, like fortepiano instruments. In economics he is best known for his attempt to reconcile the church doctrine on usury with the needs of modern commerce (Dell'impiego del danaro, 1744).

---
MANGOLDT, Hans von
(1824-1868)
Grundriss der Volkswirthschaftslehre. Ein Leitfaden für Vorlesungen an Hochschulen und für das Privatstudium.
Stuttgart, J.Engelhorn 1863.
XVI,224p. Contemp. half cloth, corners worn. Small name stamp ('E.Baumstark') on title, library bookplate to front paste-down. Two pages with mild brown offsetting from an inserted leaflet. (#24097)
€ 1500

First edition. Mangoldt was a civil servant and professor of political science and economics at Göttingen and Freiburg and according to Schumpeter 'among the century's most significant figures in our field'.
This is one of his two important contributions to economic theory (the other being Die Lehre vom Unternehmergewinn of 1855). 'It was a comprehensive but highly compressed work, which stands out not only for its path-breaking discussion of price formation but also for its liberal use of geometric diagrams, including the Marshallian cross of demand and supply. No doubt, Cournot, Dupuit and Gossen had been there before him but there is no evidence that Mangoldt knew anything of their writings.'
There was a second edition of this in 1863, but Schumpeter points out that that edition 'leaves out the most original element in it, namely the geometrical apparatus that Mangoldt devised for the theory of international values; but Edgeworth brought it to light again'.
*Schumpeter p. 503-504. M.Blaug, Great economists before Keynes, p.148.

---
MARQUARD [or MARQUART], Johann
(1610-1668)
Tractatus politico-juridicus de iure mercatorum et commerciorum singulari ...
Francofurti, ex officina Thomae Matthiae Götzii [Frankfurt, Thomas Matthias Götz] 1662.
2 parts in 1 volume. Folio. [XII],572, [4],156,158-213,215-278,277-744,[138]p., thus complete. With an engraved frontispiece. Contemp. vellum, little wrinkled, neat repair to top of back. Worming in outer margin mostly in second half not affecting text. Some mild browning, small stamp on frontispiece and in the margin of a few other pages. Bound with another work of minor importance. (#33979)
€ 2750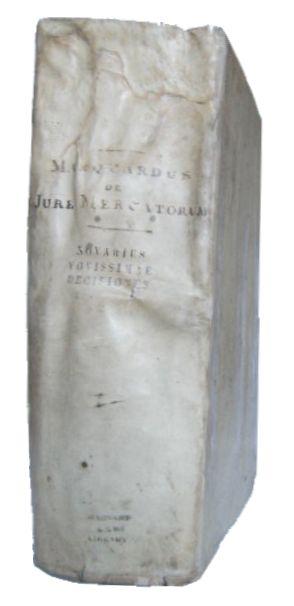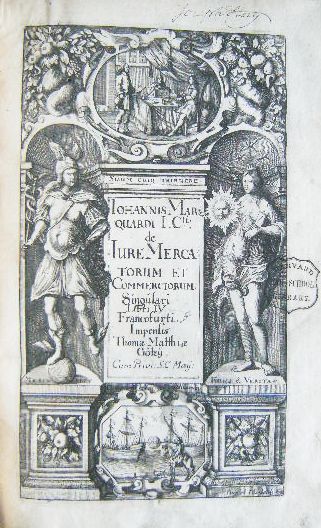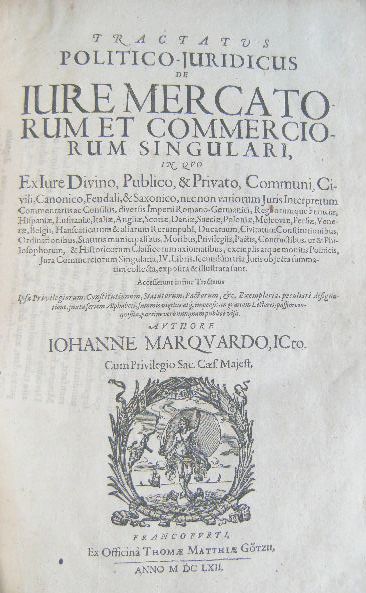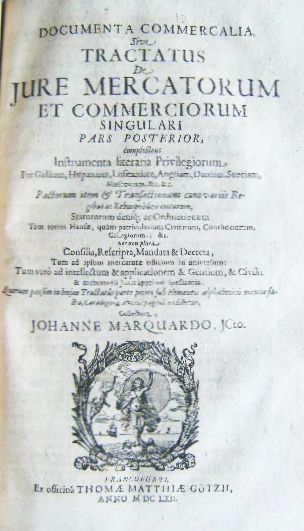 First (only) edition. An important work by a jurist and prominent citizen of the Hanseatic town of Lübeck. The first part, written in Latin, is dedicated to the laws and customs of international commerce and maritime law.
The important second part with own title-page Documenta commercalia contains a great number of documents, partly never before published and now lost. It is mostly in German, but some parts are in Dutch, French, Spanish or Latin. It includes documents, treatises, privileges, etc. on international commercial relations, the Hanseatic League, the trade to the Americas, Willem Usselinx' Argonautica Gustaviana (p.373-540), a collection of documents on the Swedish South Trade Company and its settlement New Sweden, afterwards Pennsylvania, the Dutch West India Company, etc.
*Kress 1097. Goldsmiths' 1676. Sabin 44661. Asher p.85.


---
An economic post-incunable
Müntz belangende Antwort und Bericht.

Die Müntz Belangende. Antwort und bericht: der furnemesten punct und Artikel, auff das Büchlein, so der Müntz halben, in der Chur und Fursten zu Sachssen, Landen, mit dem Titel, Der Gemeinen stymmen, jdoch sunder namen, kürtzlich im druck ausgangen ist, von denen so dagegen die wolfart der Lande, aus unterthenickeit auch wol meinen. Anno Domini M.D.XXX.
[Wittenberg, Georg Rhau] 1530.
Small 4to (19 x 15 cm). 57,[3 blank]p., A-F4,G2,H4. Title printed in black and red, 19 decorated capitals. Stitched, back covered with marbled paper. (#41004)
€ 2500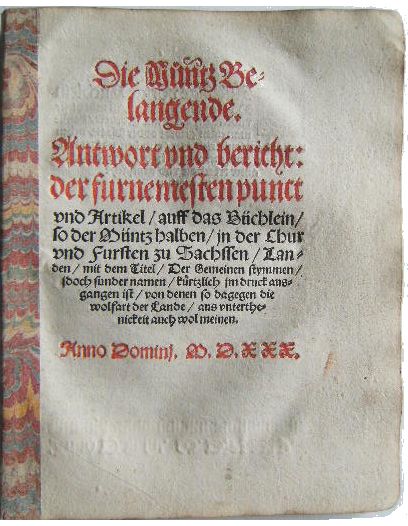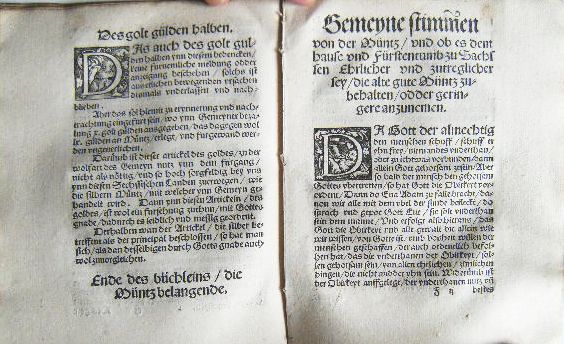 First and only edition of the second (including a reprint of the first) of three anonymous publications that became known as the Drei Sächsischen Münzschriften. They were the result of a debate that had started in 1526 about the advantages and disadvantages of the debasement of the coinage by reducing the quantity silver of in the coin. The debate was between (catholic) Albertines and (protestant) Ernestines, thus named after Ernst and Albrecht, the two sons of Elector Friedrich II of Saxony. It was opened by the Ernestines who opposed to the deterioration of the quality by the adding of less silver to the coins, and defended by the Albertines in the present publication.
As stated in the title this reprints (on leaves F2-H3) the first pamphlet Gemeyne stimmen von der Müntz, und ob es dem hause und Fürstenstumb zu Sachssen Ehrlicher und zutreglicher sey, die alte gute Müntz zubehalten, odder geringere anzunemen, which originally was printed by Wolfgang Stöckel in Dresden earlier the same year. It was refuted by the Albertines with a third pamphlet Apologia und vorantwortung des was wider das Büchlein der gemeinen Stimmen im druck ausgangen.
*Humpert 483. Not in Kress or Goldsmiths'. K.Zielenziger, Die alten deutschen Kameralisten, p.135-155.


---
OBRECHT, Georg (1547-1612)

Discursus bellico-politicus ... in quo, quomodo adversus Turcicum tyrannum bellum commodè geri possit, quàm felicissimè ostenditur. [
Followed by some other treatises and generally known as
Fünff Underschiedliche Secreta politica.]
[Strassburg] 1617 [1644].
Small 4to. [XII],59,[1 blank],[6 index],160,181-351,[1 blank],[8 index]p., thus complete. Contemp. vellum. A few quires browned, small old stamp in lower margin of last page. (#34229)
€ 1250

First published edition of an early Cameralist work. Obrecht was a law professor in Strasburg strongly influenced by Jean Bodin. His work consists of a series of essays on good government and first and foremost on the means to provide the state with an abundance of money to pay for the high costs of the wars with the Turks and for other purposes of state interest. The author pleads for the use of population statistics for a righteous fiscal policy, an honest monetary policy, the introduction of a system of savings by parents for their children, etc.
All parts, all with own title-pages, were privately printed by the author's son Johann Thomas Obrecht in 1617, but for unknown reasons not made public at that time. The present issue of 1644 has all the parts dated 1617, and two indexes added. It is usually found with a general title as quoted above which is not, and seemingly never was, present in all copies.
The first part, the Discursus bellico-politicus, is in Latin. It is separately paginated 1-59 and was also issued separately. It is is preceded by a preface by the author's son, and followed by an index.
The following parts are in German and continuously paginated: Politisch Bedencken und Discurs: von Verbesserung Land und Leut, Anrichtung guter Policey ... (p.1-139), Constitutio von nothwendiger und nützlicher Anstellung eines aerarii Sancti (p.139-182), Ein sondere Policey Ordnung, und Constitution, durch welche ein jeder Magistratus ... eine gewisse Nachrichtung haben mag ... (p.183-244), Fünff underschiedliche Beylagen ... zu mehrerem Verstand, Erklärung, und Beförderung der hieoben gesetzten sonderen Policey Ordnung ... beschrieben (p.245-296), and Constitutio und Ordnung von einem hochnützlichen aerario liberorum, in welches, von den Elteren, allerhand Summen Gelts, fürnemblich ihren newgebornen Kindern ... angelegt werden ... (p.297-351), followed by an index.
*Kress S.847. Humpert 43 & 438. Zielenziger p.176-198. Palgrave III,p.29.


---
the administration of Spanish America
Ordenanzas del Consejo Real de las Indias.

Ordenanzas del Consejo Real de las Indias. Nuevamente recopiladas, y por el Rey Don Felipe Quarto N. S. para su govierno establecidas ano de M.D.CXXXVI.
En Madrid, por Julian de Paredes 1681.
Folio (28,5 x 20,5 cm). 206,[14 index]p. Title with fine engraved coat of arms, numerous large and several decorated capitals and two tail-pieces. Contemp. calf, gilt back with red label, marbled edges and endpapers. Very fine copy. (#15417)
€ 6500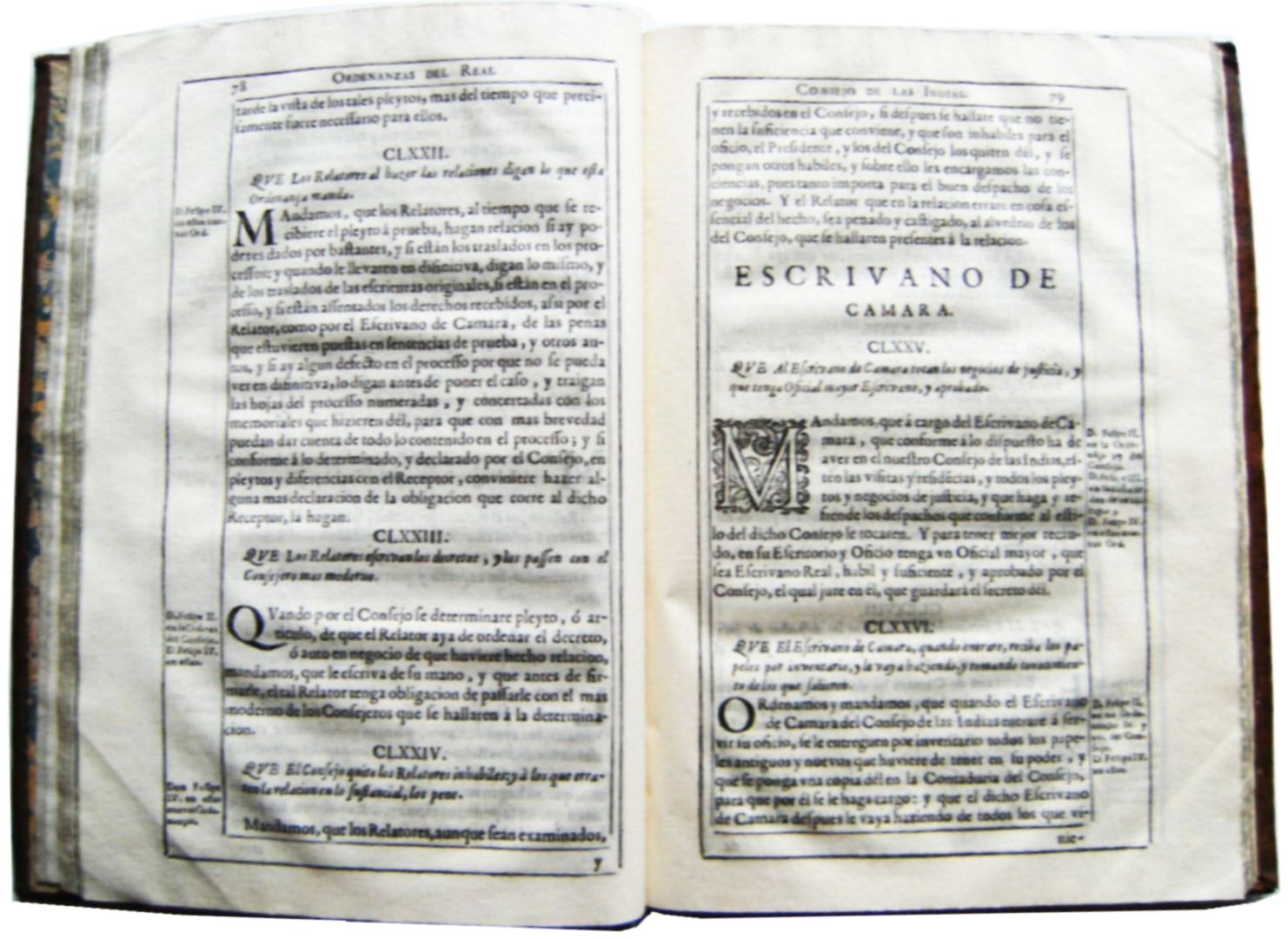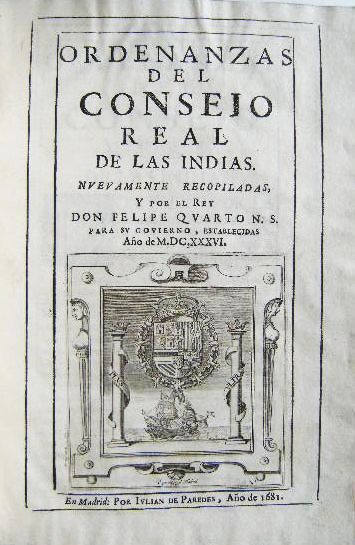 Second, revised and considerably expanded edition. The statutes of the Council of the Indies (formally Royal and Supreme Council of the Indies), the main administrative body for the Spanish colonies in the Indies and the Philippines. It was established in 1524 by Charles V and exercised absolute power.
The first part (p.1-112) appeared in 1636 and includes 245 ordinances. The second part (with sub-title Autos, acuerdos, y decretos de govierno del Consejo Real y supremo de las Indias) appears here for the first time. It includes 190 ordinances that were omitted in the earlier edition as well as ordinances for the following period.
*Sabin 57477.


---
PRINCE-SMITH, John
(1809-1874)
Uber Handelsfeindseligkeit.
Königsberg, Theodor Theile 1843.
87p. Uncut in orig. printed wrappers, back neatly repaired, light soiling. A few old stamps. (#35524)
€ 500

First (only) edition, very rare. The most important publication of the author, the leader of the free-trade movement in Germany. Prince-Smith was born in England and grew up in British Guiana as the son of a governor. He emigrated to Germany in 1830 and there earned a living teaching English while studying economics. He became an outspoken opponent of German protectionist policy as represented by the Zollverein, and an ardent advocate of a liberal economic policy. In 1846 he founded the Deutsche Freihandelsverein, a German counterpart of the Cobden Club of which he was also a member. He also founded a Free Trade Academy and became the mentor of several German liberal economist.
Though his economic principles were not original, fully matching those of the classical economists as popularized by Bastiat, Cobden, John Bright and so many others of the anti-corn law agitation, his fight against protectionist legislation has much contributed to mitigating the extremes of German protectionism.
*Not in Kress, Goldsmiths' or Einaudi. Palgrave III,p.203.

---
QUESNAY, François
(1694-1774)
Essai physique sur l'oeconomie animale. Seconde édition augmentée de deux volumes, & de tables fort amples.
A Paris, chez Guillaume Cavelier 1747.
3 volumes. 12mo. CXII,[12],612; [IV],662,23; [IV],768p. With engraved frontispiece to volume 1. Contemp. calf, gilt backs, marbled endpapers, red edges, some neat repairs. Small number stamp to corner of title and small red stamp to verso and to lower margin of last page of each volume. (#20039)
€ 1750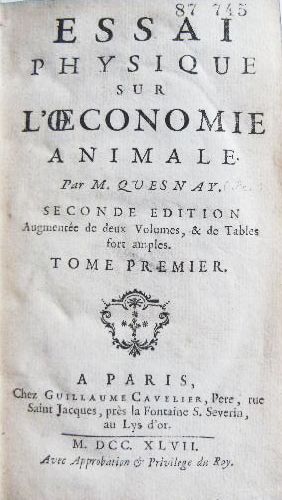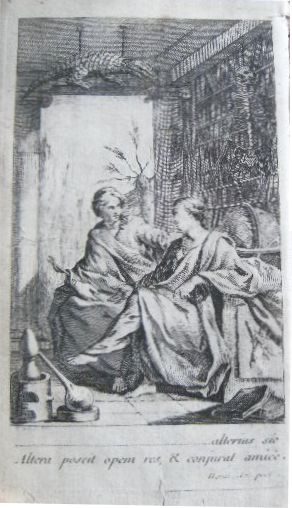 The largely augmented second edition of Quesnay's chief work on fysiology. The first edition of 1736 was made up on one volume of 296 pages only. It is in this edition that Quesnay's economic ideas appear for the first time, notably on the pages 364-372 of the third volume.
It is generally agreed that Quesnay's fysiological studies formed the basis for his later economic studies. Extracts from the third volume of this second edition were included by Oncken in his edition of the economic works of Quesnay (1888). 'The third volume concerns particularly with philosophical matters. It conceals the basis of the ulterior development of his practical philosophy, or, which is the same for Quesnay, of his economic philosophy' (Oncken p.740).
*Kress and Goldsmiths' have the first edition only. Not in Einaudi.


---
RODBERTUS-JAGETZOW, Johann Karl (1805-1875)
Zur Erkenntniss unsrer staatswirthschaftlichen Zustände. Erstes Heft: Fünf Theoreme [all published].
Neubrandenburg and Friedland, G.Barnewitz 1842.
VIII,175,(i.e. 177, p.90b and 90c inserted after p.90a),[1 errata]p. Contemp. half cloth, gilt back, marbled sides, decorated endpapers. Vague call number at foot of title, there underlaid, some scattered brown spots, small stamp at foot of last and another page, old pencil scribbling on errata-leaf and rear free endpaper. Still a good copy. (#24051)
€ 600
First edition. One of the earliest andmost important publications of the author, a pioneer of the theory of state socialism. Rodbertus, known as Rodbertus-Jagetzow from the name of his Pommeranian estate of Jagetzow, was a major figure in the development from utopian to scientific socialism.
Rodbertus defended the Ricardian labor theory of value and was also influenced by Sismondi. 'For Rodbertus, labour was the only true source of productive wealth. His fundamental proposition, taken from Ricardo, was that the working-classes would always receive only a subsistence wage: the "ron law" of wages. Hence, any growth of national income would inevitably increase the share of rent and profits, whereas the proportion going to wage-earners would fall. This in turn would produce recurrent economic crises as consumption would fail to match output due to lack of demand. Rodbertus may thus be considered as a continental forerunner of underconsumptionist theorists.'
*Kress C.5941. Goldsmiths' 33076. Einaudi 4806. Humpert 8130. New Palgrave IV,p.218.
---
Lenin's circle
Russian Social-Democratic Labor Party.

Collection of 18 mostly smaller publications, issued by the Russian Social-Democratic Labor Party and affiliated printers, published between 1887 and 1915.
Most were published in Geneva, others in St. Petersburg (3), Moscow (1) Zürich (1) and Wien (1).
Generally in good condition, in original printed wrappers, some loosening and/or somewhat chipped, or (partly) without wrappers, backs usually (partly) gone, a few repairs. A few with a stamp or some striping. Most are represented in WorldCat with only one or just a few copies. (#14379)
€ 6500

Pavel Borisovich AKSELROD (1850-1928)
- - - Istoricheskoe polozhenie i vzaimnoe otnoshenie liberal'noj i socialisticeskoj demokratii v Rossii.
Zeneva, Izdanie Soiuza Russkikh Sotsial'demokratov' 1898. 34p.
'Historical situation and reciprocal relations of liberalism and socialism in Russia.' *Zaleski 954.
- - - K voprosu o sovremennykh zadachakh i taktike russkikh sotsial-demokratov. [At head:] Lettres sur la tactique.
Zeneva, Izdanie Soiuza Russkikh Sotsial'demokratov' 1898. 34p.
'On the problem of the present tasks of the Russian Social-Democrats.' *Zaleski 955.

Varlam CERKEZOV (1846–1925)
- - - Doktriny marksizma. Vypusk pervyi. Nauka-li eto?
Zeneva, Gruppa Russkikh Kommunistov-anarchistov 1904. 86p.
'Doctrines of Marxism. Dismiss the first. Is it science?' *Not in Zaleski.

Fyodor Ilyich DAN [Fedor GURVIC] (?-1947)
- - - 'Bol'sinstvo' ili 'men'sinstvo'? Perevod s gruzinskago. (iz NoNo 1, 2, i 3 'Social'demokrata '). S prilozeniem stat'i K.C. "S'ezd' i konferencija. S'predisloviem' i primecanjami. [At head:] Les deux fractions du Parti Socialdemocrate Ouvrier de Russie.
Zeneva, Izdanie 'Iskry' 1905. 39.
'The majority or the minority. Translated from Georgian (of nrs 1, 2 and 3 of the Socialdemocrat). With preface and comments by F.Dan. Attached the article of K.C. The congress and the conference'. *Zaleski 1790.

Friedrich ENGELS (1820-1895)
- - - O Rossii. 1. Otvet P.N. Tkachevu (1875 g.). 2. Posleslovie k nemu (1894 g.). Perev. s nemetskago V. Zasulich. [At head:] Lettres de Frédéric Engels sur la Russie.
Zeneva, Tipografija Social'-Demokrata 1894. VII,38p.
*Zaleski 813.
- - - Ljudvig Fejerbach i socinenie Fr Engel'sa. Perevod s nemetskago G. Plekhanova. S dvumya prilozheniyami, s novymi ob"snitel'nymi primechaniyami i s novym predisloviyem perevodchika. [Athead:] Ludvig Feuerbach par Fr. Engels.
Zeneva, Biblioteka naucnogo socializma 1905. XXXII,125,[3]p.
Second Russian edition of Ludwig Feuerbach und der Ausgang der klassischen deutschen Philosophie, first publieshed in Russian in 1892. *Not in Zaleski.

Nikolai LENIN, [Vladimir Ilich Ulyanov] (1870-1924)
- - - Socialdemokratija i izbiratel'nyja soglasenija.
S.-Peterburg, Knigoizdatel'stvo 'Vpered' 1906. 30p., with an addition to text on slip inserted at end.
'Socialdemocracy and elections strategy.' *Not in Zaleski.
- - - Doklad 5-mu s'yezdu R.S.-D.R.P. po povodu peterburgskago raskola i svjazannago c' nime ucreznija partijnago suda. [At head:] Tol'ko dlia chlenov partiinago s'ezda R.S.-D.R.P.N.
Moskva, aprelya 1907. 16p.
'Report to the 5th Congress of the R.S.-D.R.P. about the Petersburg schism.' *Not in Zaleski.
- - - & Fyodor Ilyich DAN [Fedor GURVIC] (?-1947)
Gosudarstvennaja duma i socialdemokratija. N.Lenin, Gosudarstvennaja duma i socialdemokraticeskaja taktika. F.Dan, Gosudarstvennaja duma i proletariat. Knigoizdatel'stvo Proletarskoe Delo.
[Petrograd, Proletarskoe Delo] 1906. 32p.
'N.Lenin, The state duma and the tactics of the social-democrats. F.Dan, The state duma and the proletariat.' *Zaleski 2322.
- - - & Grigory ZINOVIEV ( 1883-1936)
Socializm'i vojna. (Otnosenie R.S.-D.R.P. k'vojne).
Zeneva, Izdanie Redakcii 'Social'demokrata', Genève, Imprimerie Chaulmontet 1915. 48p.
'Socialism and the war. The point of view of the Russian Social-Democratic Labor Party.' *Zaleski 3382.

Georgi Valentinovich PLEKHANOV (1856-1918)
- - - Ferdinand Lassal'. Ego zizn' i dejatel'nost. [At head:] F.Lassalle par G.Plechanoff. Biblioteka sovremennogo socializma 6.
Zeneva, Tipografija gruppy 'Osvobozdenie Truda' 1887. 66p.
* Zaleski 647 (other editions).
- - - O zadacach socialistov v bor'be s golodom v Rossii. (Pis'ma k molodym tovariscam.) 1.Priciny goloda. 2.Verojatnyja posledstvija goloda. 3.Nasi zadaci. [At head:] Lettres sur la famine. (Biblioteka sovremennogo socializma 10)
Zeneva, Tipografiya 'Social-Demokrata' 1892. 89,[1]p.
'On the tasks of socialists in the fight against hunger in Russia. (Letters to young comrades.) 1.Causes of hunger. 2.Probable consequences of hunger. 3.Our tasks.' *Zaleski 763.
- - - Novyj pochod protiv russkoj social'-demokratii.
Zeneva, 'Izdaniye Soyuza Russkikh Sotsial Demokratov' 1897. 55p.
'A new campaign against Russian Social Democracy.' *Zaleski 943.
- - - My i oni. Reci G.V. Plechanova na londonskom s'ezde 1907 goda. S ego predisloviem i s prilozeniem rezoljucii Moskovskago Okruznogo Komiteta. [At head:] Discours au Congrès de Londres.
Zeneva 1907. XIII,[1],25p.
'Us and them. Speech of G.V.Plekhanov at the London Congress of 1907. With his preface and with the appendix of the resolution of the Moscow District Committee.' *Zaleski 2808.

Ob anarchizme. Perevod s nemeckogo. [Predisloviye] Peresa.
S.-Peterburg, Knigoizdatel'stvo E.Mjagkova 'Kolokol' 1906. 64,8p.
'About anarchism. Translated from the German. Foreword by Perez.' *Not in Zaleski .

Proletarij. 'Socializm socialistov-revoljucionerov.'
S.-Peterburg, Knigoizdatel'stvo E.Mjagkova 'Kolokol' 1906. 36p.
'The Proletarian. Socialism of the Socialist Revolutionaries.' *Zaleski 2482.

Izvescenie o konferencii organizacij R.S.-D.R.P. [At head:] Rossijskaja Social'demokraticeskaja Rabocaja Partija.
Wien, Izdanie Organizationnago Komiteta [at end: Koller] 1912. 55p.
'Notice on the conference of the Russian Social-Democratic Labor Party.' *Zaleski 3198.

Vozrozdenie internacionala i bor'ba za mir. (Pis'mo k tovariscam v Rossii). [At head:] Rossijskaja Social'demokraticeskaja Rabocaja Partija.
[At end: Zürich, Paul Axelrod 1915]. 16p.
'Revival of the International and the struggle for peace. (Letter to comrades in Russia).'
*Zaleski 3380.


---
SALWECHTERUM, Jacobum [Jacob SALWECHTER]

De maniere om een proces te voeren, leerende hoemen een sake voor rechte sal bedinghen, ende voorsichtelijck beleyden van beghinne totten eynde. [
And
:] Dboeck van exceptien inden rechte, seer nut ende profitelijck om eenen persoon oft een sake voor rechte te verweeren, verantwoorden, beschudden ende te beschermen, vergadert wt den gheestelijcken ende weerlijcke rechten. [
And
:] [
ANDREAS PERNEDER
(1500-1543)] Een tractaet van criminele saken, te weten: van saken die dlijf aengaen, ende is ghenomen uut de keyserlijcke rechten, midtsgaders de allegatien vande rechten in Latijn, leerende watmen doen ende laten sal (na uutwijsen vande rechten) in saken daer dore dat een mensche soude mueghen beschadicht werden aen zijn goet-fame, oft aen zijnen lichaeme.
Gheprint T antwerpen ... by Hans de Laet 1551.
3 volumes in 1. Small 8vo (14 x 9 cm). [64]; [56]; [68] lvs. With three different fine woodcut illustrations of a courtroom on the titles. Nineteenth-century half calf, gilt back, modern bookplate to front paste down. Some faint thumbing, small ink-blot on fore-edge, old faded name at foot of first title, few contemp. scribbling on some blanks. (#33038)
€ 1750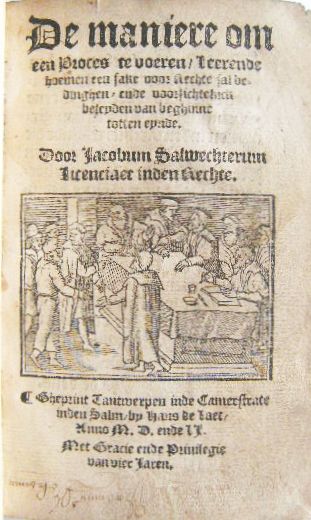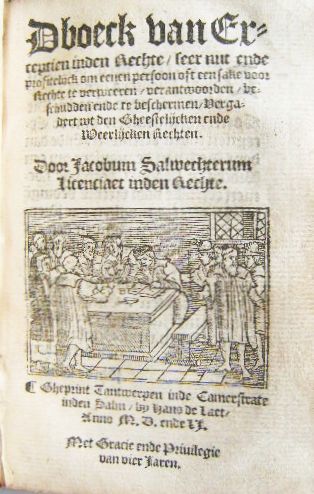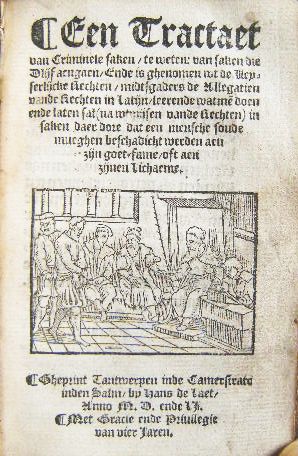 First edition in Dutch of the first work, second editions in Dutch of the other works, of three translations of early German works on criminal justice and legal practice. The first two titles are translations of works published in Frankfurt in 1543 and 1546: Gerichtlicher Process (often attributed to Perneder, but here to Salwechter), and Acervvs exceptionvm ivris. The third work first appeared in Ingolstadt in 1544 or 1545 as Von straff unnd Peen aller unnd yeder Malefitz handlungen ain kurtzer bericht.
*Belgica Typographica 4234, 4228, 3960. The first work is represented in STCN by editions of 1553, 1620, 1624, 1641 and 1648 only, STCV lists an edition of 1553 only. The second work is not in STCN, NCC records copies in UBL and UVA (dated 1550), STCV lists an edition of 1553 only. The third work is not in STCN, NCC records two copies dated 1550 (KB and UVA) and several copies of 1554, STCV lists two copies dated 1551.


---
The 'Northeastern part of Siberia, the Ice-Sea, the Eastern-Ocean and the Northwestern coast of America'
SARYTSCHEW [SARYCHEV], Gawrila
(1763-1831)
Reis in het Noordoostelijke Siberie, en op de IJszee en den Noordoostelijken oceaan. Uit de Hoogduitsche vertaling van Johann Heinrich Busse overgezet door N. Messchaert.
Amsterdam, Johannes Allart 1808.
2 volumes in 1. [II],XXXII,190; III-X,334p., wanting half-title to volume 2 as usual. With a large folding engraved map (78 x 47 cm) of the 'Northeastern part of Siberia, the Ice-Sea, the Eastern-Ocean and the Northwestern coast of America', 5 engraved plates coloured by hand, 10 folding engraved plates, and a folding table. Small tear (c.5 cm) in the map. Contemp. half calf, marbled boards, extremities and joints somewhat worn, edges dust-soiled. (#38245)
€ 1500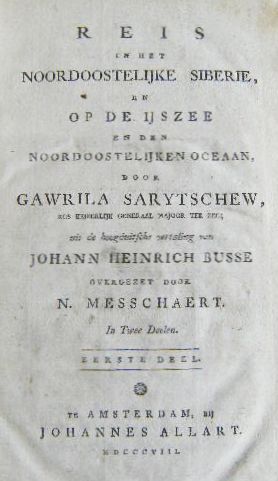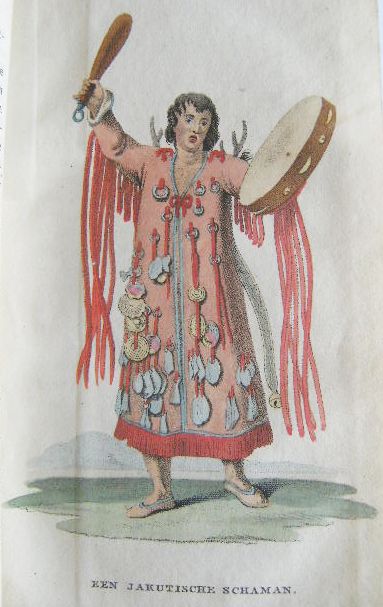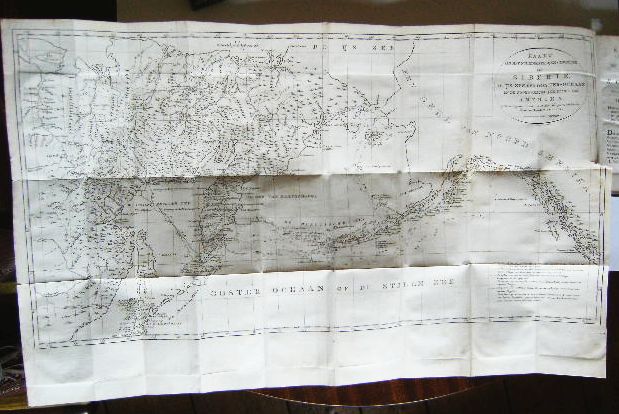 First (only) Dutch edition. An account of the Russian expedition in search for the Northeast Passage to Northeastern Siberia, the Polar Sea and the Northeastern Ocean during the years 1785-1794. The expedition was headed by Joseph Billings, an English navigator in the service of Catherine II, assisted by Sarychev. The expedition greatly contributed to the mapping of the Chukchi Peninsula, the West Coast of Alaska and the Aleutian Islands.
The original Russian edition appeared 1802. This Dutch edition was done after the German translation of 1805-06. An abridged English edition appeared 1806.


---
SPINOZA, Baruch (1732-1677)
Zwey Abhandlungen über die Kultur des menschlichen Verstandes und über die Aristokratie und Demokratie. Herausgegeben und mit einer Vorrede begleitet von S.H.Ewald.
Leipzig, in der von Schönfeldschen Handlung 1785.
Small 8vo. XVI,96,242,IV,243-246,V-VIII,247-248,257-263p., some errors in pagination and somewhat disorderly bound, but complete. Contemp. calf, gilt back with red label, decorated endpapers, little rubbed, upper cover somewhat dented. Browned. (#32740)
€ 1500
First German edition of
De intellectus emendatione
and
Tractatus politicus
, translated from the Latin of the
Opera posthuma
. Translated by Schack Hermann Ewald (1745-1824), a court clerk and freemason from Gotha who also translated the
Tractatus theologico-politicus
and
Ethica
into German, published 1787-93 as
Spinoza's Philosophische Schriften
.
*Kingma & Offenberg 27. Van der Linde 29. Spinoza-Bibliografie 6631. Not in Wolf or Spinozahuis.
---
STRüBI, Heinrich.

Arithmetica: ein new künstlich Rechenbuch mit der Zipher: darinn die Anfäng und Gründ der Rechenkunst, im Gantzen und Gebrochnen, auffs klärlichest unnd verständtlichest dargethon sind, durch Weiland H. Heinrich Strübi ... Nun aber mennigtlichem zu nutz auffs newe übersehen ...
Getruckt zu Zürich bey Johanns Wolffen 1599.
Small 8vo (14 x 9 cm). [VIII],128 lvs. Contemp. vellum, somewhat stained. Title printed in black and red. Contemp. ownership inscription at foot of title, inner margin of first quire little frayed, lower outer corner of fist quire little thumbed. Old annotations on endpapers. (#28797)
€ 1500

Second edition, first published in 1588. The author was a 'Ordinarium Schül und Rechenmeister' from Zürich. The preliminary pages include a preface by the author dated 1588, as well as a short preface by the editor of the present edition Caspar Rütlinger, 'Ordinarius, Schül unnd Rechenmeister der newen Teutschen Schül [at Zürich]' dated 1599.
*Smith, Rara arithmetica , p.391. WorldCat locates 2 copies of the edition of 1588 (Zentralbibliothek Zürich and Aargauer Kantonsbibliothek) and several copies dated 1618/19, but none of the present edition.

---
SüSSMILCH, Johann Peter
(1707-1767)
Die göttliche Ordnung in der Veränderungen des menschilichen Geschlechts, aus der Geburt, dem Tode und der Fortpflanzung desselben erwiesen. Vierte, verbesserte Ausgabe, genau durchgesehen und näher berichtiget von Christian Jacob Baumann. Neue Auflage. [
With
:] Dritter Theil, welcher Anmerkungen und Zusätze zu den beiden ersten Theilen nebst einer Abhandlung von Wittwenverpflegungsgesellschaften enthält, herausgegeben von Christian Jacob Baumann. Zweyte verbesserte und sehr vermehrte Auflage.
Berlin, Im Verlag der Buchhandlung der Realschule 1787-1788.
3 volumes. [VIII],XX,576,130; [IV],580,81; XXX, 850,119,[2 errata]p. With 36 tables to volume 1, 39 tables to volume 2 (incl. 1 folding), and 45 tables to volume 3. Contemp. half calf, spine ends chipped and worn, corners and edges worn. Deaccession stamp on title and another stamp at end of volume 3. (#11666)
€ 1150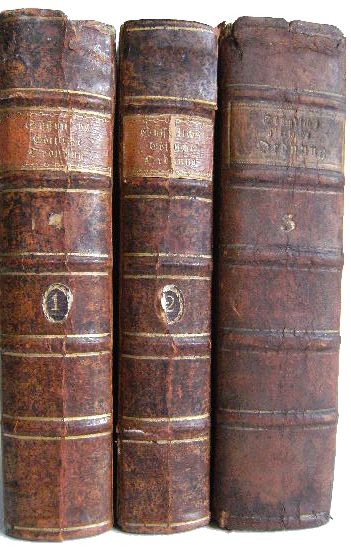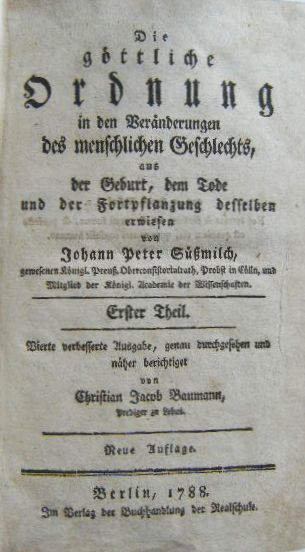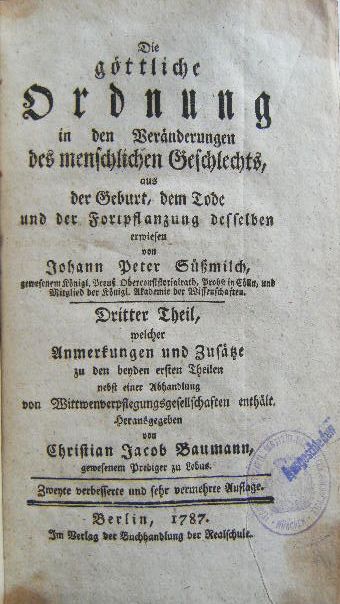 A new issue of the fourth and best edition, together with the second revised edition of Baumann's complementary volume.
The first complete and systematic treatise on demography and population statistics in Germany, building forth on the work of William Derham, John Graunt and William Petty. Süssmilch's Divine order in the circumstances of the human sex, birth, death and reproduction was an attempt to disclose the demographic phenomena that, as he thought, were regulated by the Divine Order. The work includes a fairly complete compendium of all the statistical literature up to his time. Schumpeter notes of Süssmilch that he 'may be said to have put vital statistics definitely on its feet by developing and systematizing the work of his English predecessors'.
*Schumpeter p.212.


---
TITSINGH, Gulielmus (1733-1803)
Bedenkingen over de schaarsheid van zeevarend volk in het gemeen, en het verval onzer nationale zeevaart in 't byzonder.
Amsterdam, H.W. en C.Dronsberg 1780.
X,50p. Uncut in recovered blank wrappers. A few upper margins expertly reinforced, two old stamps on title. (#33542)
€ 300
First (only) edition. A strong plea for the founding of a training college for sailors, provoked by the shortage of qualified sailors and the decay of Dutch maritime trade. It was successful indeed because in 1785 the
Kweekschool voor de Zeevaart
was founded. The author was an employee of the East India Company and during the Batavian Revolution a member of the
Comité tot de Oost-Indische Handel en Bezittingen
.
*Knuttel 19465. Landwehr 1594. Laspeyres p.154.
---
VOLTAIRE (1694-1778)
La Bible enfin expliquée par plusieurs aumoniers. De S.M.L.R.D.P.
Londres [Amsterdam, M.M. Rey] 1776.
2 volumes in 1. [IV],274,[IV],275-550,[1]p. Contemp. calf, back richly gilt with red label, red edges. Fine copy. (#41436)
€ 650
Published in the year of the first edition. One of Voltaire's last books in which he maliciously points out the contradictions and inconsistencies of the stories of the Old Testament, not free of anti-Semitic utterances. 'S.M.L.R.D.P.' stands for 'Sa Majeste le Roi de Pologne' or 'de Prusse'.
*Bengesco 1861, 3.
---
His only work of economic interest
VOLTAIRE
(1694-1778)
The man of forty crowns. Translated from the French of M. de Voltaire.
London, printed for T.Becket and P.A.D'Hondt 1768.
IV,104p. Finely bound in 3/4 calf, gilt ribbed back, red label, marbled sides (sd Bayntun, Bath). (#30679)
€ 1500

First English edition. Voltaire's only work of economic interest in which he attacks the principles of the physiocrats and particularly Le Mercier de la Rivière's L'Ordre naturel et essentiel des sociétés politiques published the previous year. It is the history of the owner of a small estate yielding a net income of forty crowns a year, who has been frightened by the appearance of several edicts promulgated 'by a few gentlemen who, having some leisure, have undertaken to govern the kingdom from their firesides'. 'The dogmatic and often pompous and heavy style of the physiocrats had probably bored him, as well as their abstract and subtle mode of reasoning.'
The book was almost immediately forbidden and almost all of the numerous editions published afterwards appeared without or with false imprint. There were three editions in English the same year, the others being published at Glasgow and Dublin. Originally published in French the same year (L'Homme aux quarante écus).
*Kress 6597. Goldsmiths' 10405. Palgrave III,p.632.

---
The honour of special refutation from Malthus
WEYLAND, John (1774-1854)
The principles of population and production, as they are affected by the progress of society; with a view to moral and political consequences.
London, printed for Baldwin, Cradock, and Joy 1816.
XL,493 [errata on p.493],[1]p. Contemp. tree calf gilt back, marbled endpapers. Light foxing to first and last blanks only. A fine copy indeed. (#23416)
€ 1950
First edition. A major criticism of Malthus' population theory, answered by Malthus the next year in the appendix to the fifth edition of his
Essay on population
. Malthus thought much higher of it than of the other object of the appendix, the
Inquiry
of James Grahame which appeared the same year, 'a slight work without any very distinct object in view ... Mr. Weyland's work is of a much more elaborate desciption [and] has also a very definite object in view'.
Weyland believed that an increase of population was recommendable and argued that a higher birthrate in the countryside was needed to compensate for the higher mortality rate in towns. He holds that 'population has a natural tendency to keep within the powers of the soil to afford it subsistence in every gradation through which society passes [and] this tendency can never be destroyed, and can only be altered or diverted from its natural course ... by grossly impolitic laws, or pernicious customs, either accelerating the progress of population considerably beyond its natural rate, or depressing the productive energies of the soil considerably below its natural powers' (p.21).
Weyland was a landowner and magistrate from Oxfordshire and author of several books on the poor laws and related subjects.
*Kress B.6837. Goldsmiths' 21429. Einaudi 6027. Bonar p.378-380.
---
WITT, Johan de
(1625-1672)
Brieven, geschreven ende gewisselt tusschen den heer Johan de Witt, raedt-pensionaris en groot-segelbewaerder van Hollandt en West-Vrieslandt; ende de gevolmaghtigden van den staedt der Vereenighde Nederlanden, so in Vranckryck, Engelandt, Sweden, Denemarcken, Poolen, enz. Beginnende met den jaere 1652 tot het jaer 1669 incluys.
's-Gravenhage, Hendrick Scheurleer 1723-27.
6 volumes. (#20603)
€ 950

First (only) edition. The correspondence between John de Witt, grand pensionary of Holland (1652-1672) and as such the supreme leader of the United Netherlands, and his foreign representants. A vast and indispensable source for the history of the Dutch Republic and particularly its relations with France and England and the other European powers. Contradictory to the relative commentary of Bourgeois and André the present edition is not replaced by the modern edition of the letters from and to Johan de Witt by G.W.Kernkamp and N.Japikse, because that edition contains only selections from letters not already included in the present edition.
Here accompanied with the often lacking index volume, and three volumes containing the resolutions taken by the States of Holland during De Witt's reign, and the secret resolutions taken by select committees of a few trusted deputies.
*De Buck 2617. Bourgeois & André 8556.
1. Raekende de negociatien van de heren W.Boreel en C. van Beuningen, in Vranckryck. [II],XXVI,694p. With frontispiece-portrait.
2. Synde de verdere negociatien van den heer C. van Beuningen, in Vranckryck; ende die van den heer P. de Groot, in Sweden. [II],654,[48]p.
3. Behelsende de negociatien van de heer W.Nieupoort, in Engelandt [1654-1660]. [II],XL,880p.
4. Behelsende de negociatien van de heeren L. de Nassau, S. van Hoorn, M. van Gogh, J.Meerman en J.Boreel, in Engelandt [1660-1669]. [II],926,[1]p.
5. Synde de verdere negociatien van de heeren C. van Beuningen, N.Kaiser, G. van Slingelandt, P.Vogelsangh en F. van Dorp, in Sweden, Denemarcken ende in Poolen. [II],XXVII,[1],568p.
6. Behelsende de negociatien van de heeren G. van Slingelandt, P.Vogelsangh, P. de Hubert, W. van Haeren, I. van den Honert, J.Ysbrandts, N.Heyns, en G. van Reede van Ameronge, in Sweden, Denemarcken ende in Poolen. [II],614p.
And: Volkoome register over de ses deelen der brieven des raedt-pensionaris J. de Witt ... als meede over het verbael door Hieron. van Beverningh ... Nevens een aenhangsel van nog eenige eghte bewys-stukken. 's-Gravenhage, Hendrik Scheurleer 1727. [290]p.
And: Resolutien van consideratie, der ... Staten van Hollandt ende West-Vriesland [1653-1668]. Den tweden druk. Amsterdam, Joannes Oosterwijk [a.o.] 1719. [IV],828,[33]p.
And: Secrete resolutien van de ... Staten van Holland en Westvriesland [1653-1668]. Utrecht, Willem vande Water 1717. 2 volumes. [VIII],622 [i.e. 632],[12]; [II],687,[8]p.
Together 10 volumes. Large 4to. A well-bound set in contemp. blind-tooled vellum. Mostly mild browning throughout.


---
Zee-rechten.

't Boeck der zee-rechten. Inhoudende dat hoochste ende oudste Gotlantsche water-recht, dat de gemeene cooplieden ende schippers geordineert ende gemaeckt hebben tot Wisbuy ... [
Second title
:] Zee-rechten, dat is: Dat hoochste ende outste Gotlandtsche water-recht ...
Middelburgh, Symon Moulert 1637.
4to. [VIII],158p. With a vessel on the first and coat of arms of Zeeland on the second title-page. Contemp. vellum, a little dust-soiled but a nice copy. (#40047)
€ 600

An early edition of a major source for early commercial law, republished many times until 1753. A rare Middelburg printing, the first edition published outside Amsterdam.
The first part begins with the so-called Wisbyan compilation, a maritime code pretended to have been agreed at Wisbuy (Gotland), printed in Holland for the first time in 1588. It is is followed by a great number of proclamations, ordinances, etc. on maritime affairs issued since 1551.
Bound with: Quintyn WEYTSEN, Een tractaet van avarien ... Middelburgh, Symon Moulert 1641. 16p.
And with: Ordonnantie ghemaeckt by bailliu, burghemeesters, schepenen ende raedt der stadt Middelburgh, in Zeelandt op 't stuck van asseurantien. Middelburgh, Symon Moulert 1641. [16]p.