List May 2021

with a section on Marx, Engels and Lenin

[AMIGONI, Bartolomeo.]
Sopra il programma proposto dalla Reale Accademia di Torino di provvedere alla sussistenza dei tessitori di seta quando questa scarseggi o manchi ecc. Memoria di Momoalberto Manigio membro di nessuna Accademia neppure agraria.
Cosmopoli [Vicenza] 1788.
70p. Contemp. limp marbled boards. A fresh copy. (#37929)
€ 450

First (only) edition, very rare. A proposal on the provision for unemployed silk weavers, written in answer to a question proposed by the Royal Academy of Turin. Workers in the silk industry were often out-of-work because of scarcity of raw materials, and the author suggests among other things the diversification and a more economical dealing with raw materials, the undertaking of public works, etc.
*Not in Kress, Goldsmiths' or Einaudi. WorldCat locates a copy in Harvard Business School only.


---
'A more correct view of the theory of rent than ... Adam Smith'
ANDERSON, James (1739-1808)
Observations on the means of exciting a spirit of national industry; chiefly intended to promote the agriculture, commerce, manufactures, and fisheries, of Scotland. In a series of letters to a friend.
Dublin, printed for S.Price, W. and H.Whitestone, J.Williams [etc.] 1779.
2 volumes. LXVII,325; [IV],424p., complete with both half titles. From the library of William Fortescue (?), with his bookplate on paste-downs (rudely removed in the second volume) and his name on the title of the first volume. Contemp. calf, backs with red and black labels, sides a bit scratched. A very nice set. (#23406)
€ 1250
First Irish edition. James Anderson was a Scottish gentleman farmer and author of several works on rural
economy, the corn trade and similar subjects, but he is particularly credited
for his (in the present work) anticipating the Ricardian theory of rent
, the first clear formulation of the law of diminishing returns.
These volumes 'show clearly that Anderson had a more correct view of the theory of rent than his greater contemporary and compatriot Adam Smith. Rent, he says, is a premium for the cultivation of the richer soils, reducing the profits of the cultivators to an equality with those of the cultivators of the poorer' (James Bonar in
Palgrave
). 'The association of rent with decreasing returns which was to be one of the most characteristic features of the Ricardian system, was established by Anderson' (Schumpeter).
These volumes also contain one of the earliest criticisms of Adam Smith's
Wealth of nations
. In a
Postscript to letter thirteenth
(volume II, p.109-224) Anderson writes: 'I have seen the very ingenious treatise of Dr. Adam Smith on the nature and causes of the wealth of nations; and am sorry to find, that I have the misfortune to differ in opinion from an author of such extensive knowledge, and liberal sentiments, on a subject of so much real importance as that which is here treated of'. Schumpeter considered Anderson 'one of the most interesting English economists of the late eighteenth century ... he had to an unusual degree what so many economists lack, Vision'.
The first edition was published in Edinburgh in 1777.
*Kress B.170. Goldsmiths' 11772. Einaudi 117 (the first edition). Schumpeter p.263ff. Palgrave I,p.39-40 & III,p.287.
---
Five works of physiocratic inspiration
BAUDEAU, Nicolas (1730-1792)
Avis aux honnêtes gens qui veulent bien faire. Sur le commerce du bled.
A Amsterdam, chez Marc-Michel Rey. Et se vend à Toulouse, chez Dupleix 1769.
94p. 12mo. Contemp. calf, gilt back with red label, marbled endpapers, red edges, top of back slightly damaged. Bound with 4 other works. (#35693)
€ 1000
A plea for 'better and cheaper bread' urgently needed for the poor population of France after the bad harvest of 1767. As a Physiocrat Baudeau of course advocates the free trade in grain, despite the decrees of 1764 still not guaranteed. He adds several proposals for improving the grinding of corn and the baking and distribution of bread. First published in the
Ephemerides du citoyen
and again separately in 1768.
*Kress and INED list the 1768-edition only. Not in Einaudi or Goldsmiths'.
Bound with
: [
BAUDEAU, Nicolas
] Avis au peuple sur l'impôt forcé qui se percevoit dans les halles et marchés sur tous les bleds et toutes les farines. [No place] 1774. 21,[1]p. First edition. A protest against the decree of 1770 regulating the distribution of bread, according to Baudeau 'raising the taxes on bread for the people with more than 16 millions a year'.
*INED 272. Goldsmiths' 11163. Not in Kress or Einaudi.
And with
:
La ferme de Pensylvanie
. Les avantages de la vertu. Plan d'instruction pour le peuple; avec quelques observations sur la liberté du commerce de grains. A Philadelphie, et à Paris, chez Ribou 1775. XII,96p. First (only) edition. A very rare little book by an unknown author consisting of three essays. The first essay is an allegorical history of a farm in Pennsylvania named
Nobroub
(anagram of Bourbon), or 'the happy family', administered in the same wise way as the state of Pennsylvania. In the second essay the author holds that a criminal while injuring others above all injures himself, virtue is its own reward. In the third essay the author pleads for free trade in grain, with several references to the physiocratic
Ephémerides du citoyen
and Nicolas Baudeau.
*Not found in any of the usual bibliographies of Americana or economics, but it is included in Evans,
Early American imprints
14029.
And with
:
BAUDEAU, Nicolas
. Questions proposées par M. l'Abbé Baudeau, a M. Richard des Glannieres, sur son plan d'imposition, soi-disant économique. [No place 1774.] 22p. First (only) edition. A critical discussion of the plan for fiscal reform published by Des Glannieres in 1774.
*INED 294. Goldsmiths' 11164. Not in Kress or Einaudi.
And with
:
LE CRI de l'agriculture
. A Paris, chez Ruault 1775. [IV],129,[3]p. With folding table. On the importance of agriculture, against the taxation of land and for a moderate taxation of its yield, the introduction of a relief-fund for 'agricultural accidents', the liquidation of the public debt, a plan for a Royal Bank, against luxury, etc.
*INED 4581. Not in Kress, Goldsmiths' or Einaudi.
---
BAUDEAU, Nicolas (1730-1792)
Lettres d'un citoyen à un magistrat, sur les vingtiemes et les autres impôts.
Amsterdam, chez Arkstée & Merkus 1768.
Small 8vo. [IV],234p. Contemp. calf, gilt back with red label, marbled endpapers, red edges. Fine copy. Bound with two other books discussing physiocratic ideas on the free trade of grain. (#29699)
€ 1750
First edition. Baudeau's exposition of the physiocratic theory of taxation, one of his most important and rarest books.
*INED 285. Goldsmiths' 10454. Not in Kress or Einaudi.
Preceded by
: [
VAUVILLIERS, Jean François
(1737-1801)] Lettre d'un gentilhomme des états de Languedoc à un magistrat du parlement de Rouen, sur le commerce des bleds, des farines et du pain. [No place] 1768. [II],47p.
First edition. An uncompromising plea for free trade in grain. Vauvilliers was the most famous French Hellenist of his time and an adherent of the ideas of the Physiocrats and contributor to the
Ephémérides du citoyen
.
*INED 4405 (and p.35 for an uncertain attribution to Baudeau). Not in Kress, Goldsmiths' or Einaudi.
And by
:
Réponse du magistrat de Normandie
au gentilhomme de Languedoc, sur le commerce des bleds, des farines & du pain [drop-title]. [No place or date.] 48p.
A reply to the preceding text in which the anonymous author defends himself against the accusation that he would not support the free trade in grain.
*INED 4782. Not in Kress, Goldsmiths' or Einaudi.
---
BAUDEAU, Nicolas (1730-1792)
Premiere introduction a la philosophie economique; ou analyse des etats policés. Par un Disciple de l'Ami des Hommes.
Paris, Didot, chez Didot, Delalain & Lacombe 1771 [at end: De l'Imprimerie de Didot, 1769].
XII (paginated [1]-8,[9],X-XII),497,[3 privilege]p. Contemp. calf, back richly gilt with red label, marbled edges, marbled endpapers, light rubbing. Kept in a custom brown calf box. First and last leaves with some scattered foxing. (#20207)
€ 4500
First edition. The major book of the author and one of the major textbooks of Physiocracy. The abbé Nicolas Baudeau began as an enemy of Physiocracy, but in 1766 became an adherent of Quesnay and Mirabeau and 'from then on proved a most useful popularizer and controversialist as well as an efficient editor'.
*Einaudi 349. Kress S.4657. Mattioli 232. Higgs 5158 ('The best of his works'). INED 291. Schumpeter p.225.
---
A landmark in the history of of social liberation, praised by Marx
BELLERS, John (1654–1725)
Proposals for raising a College of Industry of all useful trades and husbandry, with profit for the rich, a plentiful living for the poor; and a good education for youth. Which will be advantage to the government, by the increase of the people, and their riches.
London, printed and sold by T.Sowle 1696.
Small 4to. [II],28p. Nineteenth-century half calf, back with gilt-lettered red label, marbled sides. Mild browning, upper margin closely trimmed, just touching a few page numbers. Armorial bookplate of the Macclesfield North Library 1860. (#30070)
€ 3750
Second edition, with some substantial alterations, first published the previous year. A famous publication in the history of social liberation. It was a source of inspiration for Robert Owen, who published a new edition of it in 1818, and was highly praised by Karl Marx.
Perhaps inspired by Plockhoy's
A way propounded to make the poor in these and other nations happy
(1659) Bellers here designs a complete plan for the organization of industry and labour. He proposes the founding of 'colleges of industry', agricultural and manufacturing co-operative settlements to enable the poor to care for themselves. Colonies of at least 300 people would have collective capital and labour, and not money but labour would be the standard of value, thus giving a draught for a labour theory of value. Family life would be private - he therefore uses the term colleges rather than communities - and much attention would be paid to education. It would be beneficial to the poor, enabling them to care for themselves, as well as to the rich and the state, no longer forced to support the poor.
Marx refers to Bellers in
Das Kapital
several times. He calls Bellers 'a very phenomenon in the history of Political Economy, [who] saw most clearly at the end of the 17th century, the necessity for abolishing the present system of education and division of labour, which beget hypertrophy and atrophy at the two opposite extremities of society'.
*Wing B1830. Kress 1932. Goldsmiths' 3369. McCulloch p.275.
---
[BREDERODE, Lancelot van
(1583-1668)
]

Vande apostasie. Dat is vanden afval der christenen. Tweede editie. Verbetert en klaerder gestelt.
Gedruct voor den Autheur [1659/60].
[VIII],332,[2]p. Onafgesneden in nieuw leer. (#32625)
€ 600

Tweede druk. Een eerste druk verscheen hetzelfde jaar eveneens anoniem, maar met vermelding van de naam van de drukker Jacob Nieuwelingh op de titel. Lancelot van Brederode werd in 1613 benoemd tot raad van het Hof van Holland maar werd in 1620 ontslagen wegens remonstrantse gevoelens. In dit zijn enige boek bestreed hij gereformeerde leerstellingen, in het bijzonder die van de erfzonde en de predestinatie. Beschuldigd van socianisme werd dit boek 18 december 1659 verboden door de Staten van Holland en in mei 1661 in Amsterdam 'opgehaald'.
*Knijff & Visser 3033 (met afbeelding). Knuttel, Verboden boeken 33. NCC vermeldt 2 ex. van de eerste druk (KB en UVA) en 1 ex. van deze tweede druk (UBL).

---
CAPELLEN, Alexander van der
(c.1594-1656)
Gedenkschriften ... beginnende met den jaare 1621, en gaande tot 1632; [Tweede deel:] ... beginnende met den jaare 1634, en gaande tot 1654... by een gezameld en uitgegeven door Robert Jaspar van der Capellen..
Utrecht, J. v. Schoonhoven 1777-78.
2 delen. [II],XLV,[5],660; [II],508p. Met gegraveerd portret door R.Vinkeles in deel 1. Contemp. perkament. Lichte watervlek in hoek voorwerk deel 1. Mooie set. (#20685)
€ 500
| | |
| --- | --- |
| Eerste (enige) druk. Van der Capellen was heer van Aartsbergen, Boedelhoff en Mervelt, lid van de ridderschap van Zutphen, gecommitteerde ter Staten Generaal en rechter van stad en ambt van Doesburg. Hij was bovenal een invloedrijk staatsman, vertrouweling van Frederik Hendrik en Willem II. Zijn herinneringen bevatten talrijke details over de gebeurtenissen van zijn tijd, o.a. over zijn (matigende) rol bij de strijd van Willem II tegen Amsterdam. | |
---
The education of the deaf and dumb
CZECH, Franz Herrmann
(1788-1847)
Versinnlichte Denk- und Sprachlehre, mit Anwendung auf die Religions- und Sittenlehre und auf das Leben. [
Bound with
:] Nothwendigkeit der allgemein einzuführenden Elementar-Bildung der Taubstummen ...
Vienna, gedruckt und in Commission der Mechitaristen-Congregations-Buchhandlung 1836-37.
2 volumes in 1. 4to. XXI,[2 table],[1 blank],25-441,[3 errata]; 33,[3]p. With an engraved frontispiece, 67 plates, 4 maps (2 folding), and numerous woodcut figures in the text. Contemp. half calf, back richly gilt with raised bands, marbled sides, yellow edges. A very fine copy printed on fine paper. (#29945)
€ 1950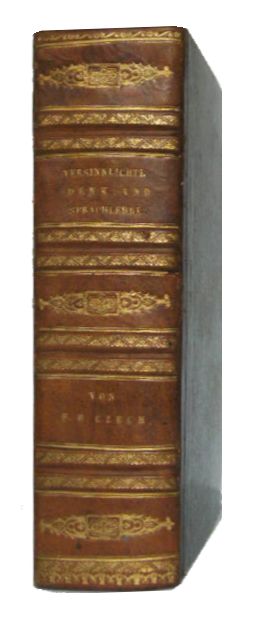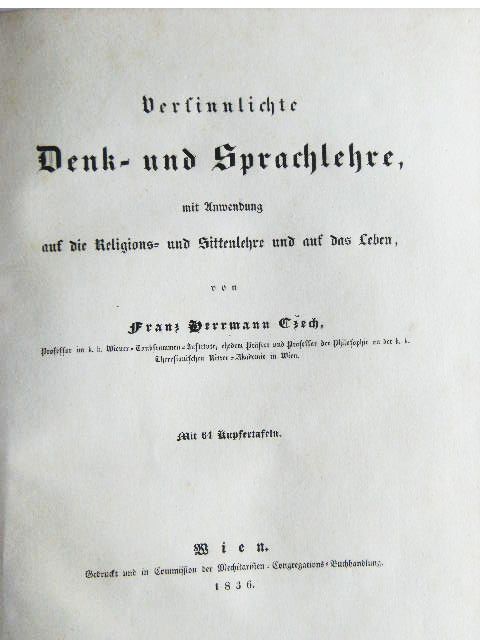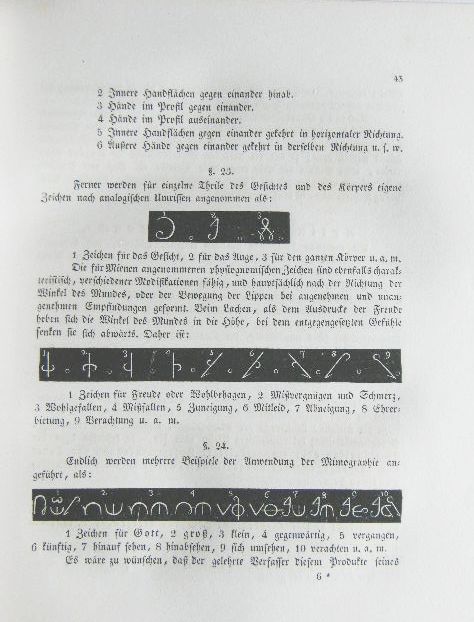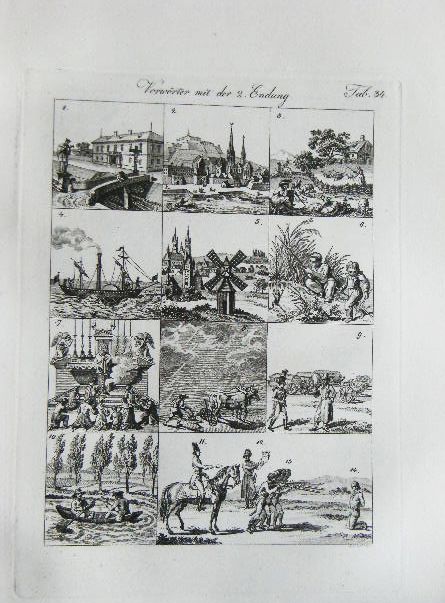 First edition. The first work on the education of the deaf and dumb to attract international attention. It was published as a help for teaching the deaf mutes, with detailed exposition of the system both in the text and on the numerous figures or scenes on the fine plates. Czech regarded thinking as a mental activity, innate in each individual. Articulated speech may make the process easier but is not intrinsically necessary. Czech therefore thought it both morally and legally a duty to provide education to the deaf and dumb.
Czech had been professor of philosophy at the Theresianischen Ritter-Akademie in Vienna and in 1818 was appointed professor at the famous Wiener-Taubstummen-Institut. This institute was founded in 1779 by Maria Theresia after the example of the French Institution Nationale des Sourds Muets of the famous abbé de l'Epée.


---
One of the major books in the history of probability theory
DEPARCIEUX, Antoine (1703-1768)
Essai sur les probabilités de la durée de la vie humaine; d'où l'on déduit la manière de déterminer les rentes viageres, tant simples qu'en tontines: précédé d'une courte explication sur les rentes à terme, ou annuités; et accompagné d'un grand nombre de tables.
Paris, Guerin 1746.
[VI],[2 approbation, errata, avis au relieur],132p. (including a table on p.102), 22 tables (table 3 on 3 pages, table 4 on 2 pages, tables 6-13 double-page, tables 16-21 half-page), [1 privilege du roi]p. Bound with two additional pieces. (#29011)
€ 2500
Together 3 works in 1 volume. 4to. Contemp. calf, rubbed, extremities worn, joints cracked but holding, gilt back with red label, red edges, marbled endpapers. Small corner (2 cm) of half title torn away. Small armorial blank stamp ('Charles Anderson') in corner of first blank and half-title. The usual light browning. A very good copy with ample margins.
First (only) edition, with the
Objections
and
Addition
, rarely found together. The
Essay on the probabilities of the duration of human life
is one of the major books in the history of statistics and probability theory. Deparcieux had studied various schemes for life insurance, including that developed by the Neapolitan banker Lorenzo de Tonti, whereby upon the death of a participant his share (or only its dividends) is distributed to the remaining members. For the construction of mortality tables Deparcieux studied the life expectancy of members of restricted groups like religious communities, in order to exclude the effects of migration. His tables were used in France for decades.
Deparcieux was a scientist and mathematician, member of the French Academie des Sciences and professor at the Collège de France. He was also a mechanical engineer with particular interest in hydrodynamics and as such best known for his project for the supply of water for Paris, the Canal de l'Ourcq, carried out during the Empire.
Followed by
:
Objections
faites à M. Deparcieux ... sur son Livre des probabilités ... avec les réponses à ces objections [drop title]. [No place or date, privilege at end dated 1746.] 16p.
Followed by
:
Addition
à l'Essai sur les probabilités de la durée de la vie humaine ... par M.Deparcieux. Paris, H.L.Guerin & L.F.Delatour 1760. 32,[3]p., including 4 tables.
*Kress 4801 and 4801a. Einaudi 1529. INED 1346. McCulloch p.246.
---
DESCARTES, René
(1596-1650)
Brieven, aan veele hoog-geagte personen, van verscheide ampten, geschreven: handelende van de over-natuur-kunde, natuur-kunde, zede-kunst, genees-kunst, wis-kunst, zang-kunst, en werk-daad, enz. Zijnde ten hoogsten dienstig, om de voorgaande werken des schrijvers te verligten, en duidelijker te doen verstaan. Door Renatus Des-Cartes beschreven: en van J.H.Glasemaker vertaalt.
t'Amsterdam, by Jan ten Hoorn 1692.
3 parts in 1 volume, the first 2 parts continuously paginated. 4to. [VIII],664,268p. With numerous woodcut figures in the text. Contemp. vellum. With the bookplate of the well-known Amsterdam book collector Bob Luza. (#32603)
€ 2500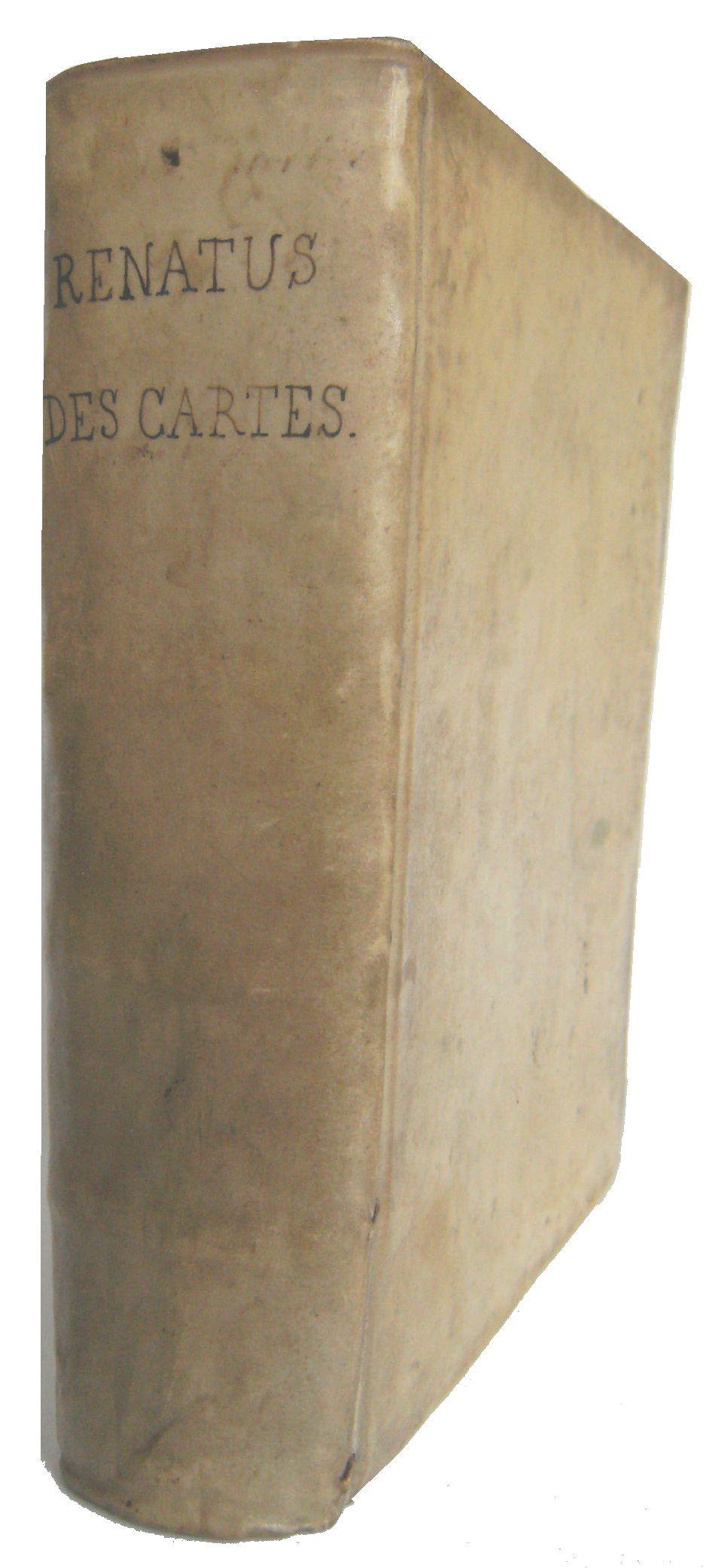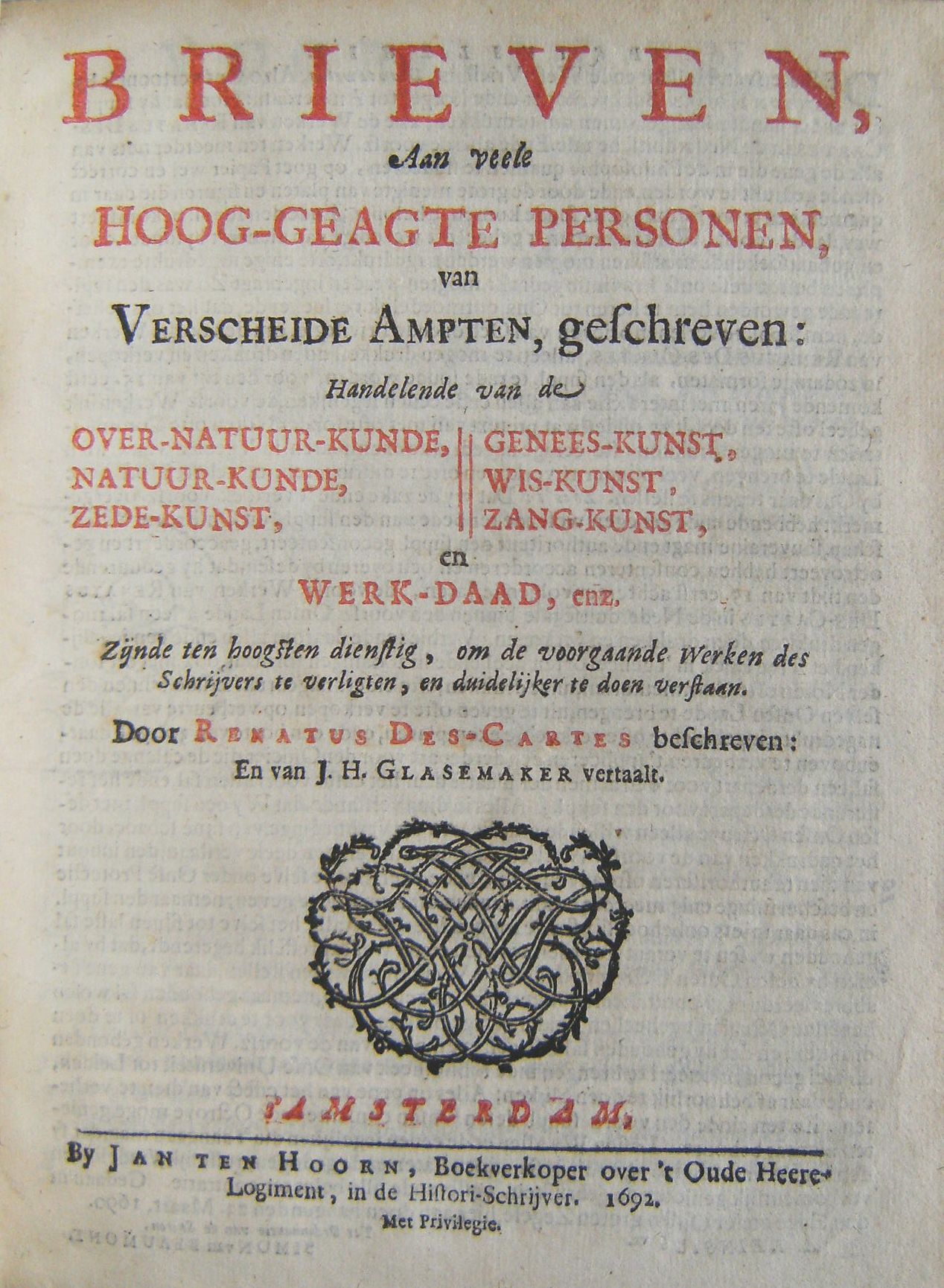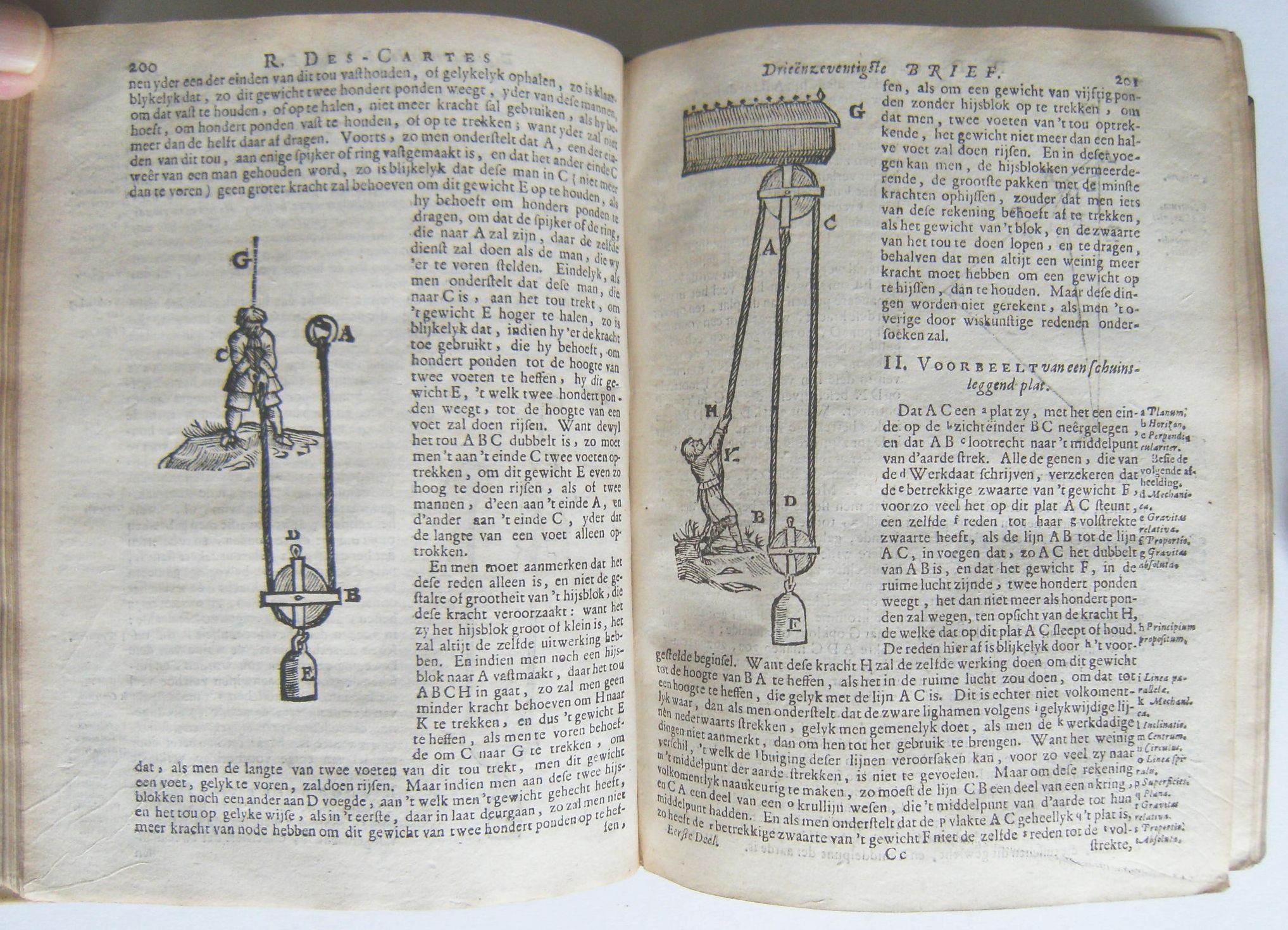 Second Dutch edition. The first volume of the original French edition of Descartes' correspondence appeared 1657, the second volume 1663 and the third volume 1667. The first two volumes of the first Dutch edition appeared 1661, the third volume 1684. The present edition also served as the fourth volume of Descartes' Alle de werken.
*Van Otegem p.614-617. Glazemaker 20.

---
Memoirs of the head of the trading post at Dejima
DOEFF, Hendrik (1777-1835)
Herinneringen uit Japan.
Haarlem, de erven François Bohn 1833.
VIII,268,[2 publ. cat.]p. Uncut in contemp. sprinkled boards, back chipped, printed label only partly preserved. Small old stamp and shelfmark to half title and title. A fine bright copy. (#32184)
€ 3750
First (only) edition. Hendrik Doeff was head of the trading post of the Dutch East India Company at Deshima (Dejima) from 1803 to 1817. His
Recollections of Japan
is one of the most important accounts of Japan and Dutch-Japanese relations. Doeff's prolonged administration met with extreme difficulties. When he arrived at Deshima he found the administration of his predecessors a chaos and a fire had destroyed part of the buildings. After the outbreak of the Napoleonic Wars the traffic with Batavia had becomen extremely difficult, ships were captured by the English or by Chinese pirates. After Holland was captured by France and the East Indies by Britain - Deshima being the only place on earth where the Dutch flag flied - only a single ship from the East Indies arrived. The Dutch trade monopoly was heavily attacked by Russia and Britain and the Phaeton Incident of 1808, an English frigate attacking Deshima, asked the utmost of Doeff's diplomatic skills. Yet Doeff was very successful in maintaining good relations with the Japanese and he has also been praised for his genuine interest in the Japanese language and civilization. Unfortunately his papers, including a Dutch-Japanese dictionary, got lost in a shipwreck on his return to Holland and his present recollections are therefore his only literary remains.
*Cordier c.488.
---
First German edition
GROTIUS, Hugo
(1583-1645)
Drey Bücher vom Rechte des Krieges und des Friedens, darinnen das Recht der Natur und der Völcker, wie auch die vornehmsten Sachen desjenigen Rechtes, welches von der Regierung eines Staates handelt, erkläret, und die Anmerckungen des Verfassers hinzugefüget werden. Aus dem Lateinischen ins Deutsche übersetzet durch P.B. S[inold] g[enannt] Schütz. Nebst einer Vorrede Herrn Christian Thomasii.
Leipzig, Friedrich Groschuff 1707.
4to. VI,84,[4],1248,[40]p. With an engraved allegorical frontispiece with inset portrait of Grotius, and an engraved vignette. Contemp. panelled calf, back with gilt lettered label, sprinkled edges, very light wear to upper joint. A very nice copy. (#31521)
€ 4500

First German edition of Grotius' great De jure belli ac pacis (1625). This translation is preceded by a preface by Christian Thomasius: Von der Historie des Rechts der Natur bis auf Grotium; von der Wichtigkeit des Grotianischen Werck's, und von dem Nutzen gegenwärtiger Ubersetzung. A second German edition, translated by Johann Niclas Serlin appeared in 1709. That edition was, contrary to the present, heavily annotated. The translator in his preface to the present translation however says that he preferred to translate the book unchanged, because the annotations and comments of other writers often obscure the work rather than clarify it.
*Ter Meulen & Diermanse 662. Printing and the mind of man 125.

---
HEGEL, Georg Wilhelm Friedrich (1770-1831)
System der Wissenschaft. Erster Theil, die Phänomenologie des Geistes.
Bamberg und Würzburg, bey Joseph Anton Goebhardt 1807.
[VIII],XCI,[3 errata],765,[1],[2 advert.]p. Contemp. boards, red sprinkled edges, back with ms. label. Stamp on title, cancellation on verso. Small closed tear in inner margin of p.13/14 not affecting text, small contemp. annotations in lower margin of five pages, the last a poem by Schiller. A very nice copy. Provenance: Dr Wilibald Grimm (1807-1891), a German Protestant theologian at the University of Jena, with his name on front paste down dated 1841, stamps from the 'Landeskirchliche Bücherei Hamburg', and modern bookplate of J[acques] A[ttali] (1943-), French economist, writer, and senior civil servant, to front free endpaper. (#29531)
€ 7500
First edition, the only part published.
The phenomenology of spirit
(or
The phenomenology of mind
) is Hegel's first major philosophical and most widely discussed work. It exercised an influence on modern philosophy that can hardly be overestimated.
---
HODGSKIN, Thomas (1787-1869)
Travels in the North of Germany, describing the present state of the social and political institutions, the agriculture, manufactures, commerce, education, arts and manners in that country, particularly in the kingdom of Hannover.
Edinburgh, Archibald Constable 1820.
2 volumes. XXVI,[2],496; X,518p., no half-titles. Attractively rebound to style in half calf, gilt backs with red and green label, marbled sides. A nice and fresh set. (#20041)
€ 900
First edition of the author's second book. It is the result of his three-year tour to study the social and economic conditions on the continent in the aftermath of the Napoleonic wars. His observations are accompanied with anecdotes demanded by his publisher to make the work amusing, and with considerations on good government and administration. Hodgskin's concern with social and economic justice forecasts his later involvement in trade unionism and socialism.
Hodgskin is best remembered for his defence of the right of labourers to 'combine' and for his denouncement of the appropriation of the most part of value produced by the labour of industrial workers as illegitimate (
Labour defended against the claims of capital
, 1825). It influenced generations of trade unionists and socialists, including Karl Marx.
*Kress C.551. Goldsmiths' 22760.
---
HOWLETT, John
(1731-1804)
The insufficiency of the causes to which the increase of our poor, and of the poor's rates have been commonly ascribed; the true one stated; with an enquiry into the mortality of country houses of industry, and a slight general view of Mr. Acland's plan for rendering the poor independent.
London, printed for W.Richardson 1788.
IV,118,[2 advert.]p. Modern calf-backed marbled boards with gilt lettered morocco label. (#40799)
€ 750

First (only) edition. The author of this 'valuable tract' (McCulloch) holds that the true cause of the increase of the poor in England has been 'the greater advance in the price of provisions than in the price of labour ... this alone will at once account for the increased numbers, the increased expences, and the increased distresses of the poor'. He defends the system of the poor laws as 'a venerable pile, raised by the hands of skilful architects', though he admits that it may need occasional repairs and improvements, 'but if pulled entirely down, we might stand a chance of either being buried in its ruins, or, at best, of never raising any thing in its stead of equal grandeur, utility, or beauty'.
John Howlett was a clerk in holy orders and a statistician, and his works 'merit attention on account of his independence of thought and careful investigation of fact'. In his Examination of Dr Price's Essay on the population of England and Wales (1781) Howlett opposed Price's thesis that the population of England and Wales had decreased, and in his Enclosures a cause of improved agriculture (1787) he insisted that enclosures rendered necessary by the increase in population and resulted in agricultural improvement.
*Goldsmiths'-Kress 13670. Palgrave II,p.335. McCulloch p.283.

---
JORIS, David
(c.1501-1556)
t'Wonder-boeck: waer in dat van der werldt aen versloten gheopenbaert is. Wie een der ick (segt de Heere) senden sal, ontfangt in mynen naem, die ontfanght my: wie my ontfanght, ontfanght den die my ghesonden heeft. Hoochghelovet moet hy sijn, die als een ambassatoer ghesonden komt, inden name des Heeren. Opt nieuw ghecorrigeert unde vermeerdert by den autheur selve: int jaer 1551.
[Rotterdam, Dirck Mullem c.1595.]
4 parts in 1 volume. Folio. [X],125,[2,1 blank]; [VI],164,[2]; [IV],50,[1,1 blank]; [II],34,[1] lvs. With 3 full-page engravings, 2 signed 'IRW' (Hieronymus Wierix), a large woodcut in the first part, 3 large woodcuts in the fourth part, a few smaller woodcuts, and numerous woodcut initials. Scattered old annotations and striping, annotations to first and last blanks. Mostly marginal staining, particularly in the upper inner corner in the first and last part. Printed in double columns. Part 2, lvs 33-36 bound after 39; lvs 91-93 after 94. Contemp. calf over wooden boards, minor imperfections, richly blind tooled, once rebacked and recased, brass corners to both boards (1 gone), remnants of clasps, and center piece to front board (gone from back board). (#35734)
€ 4500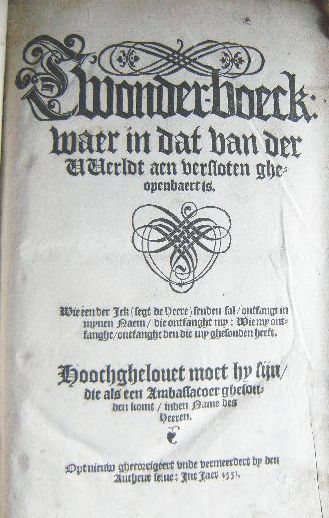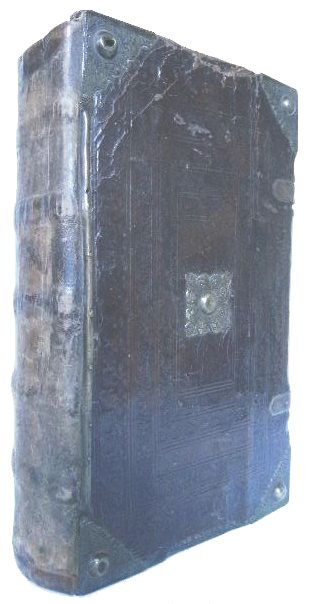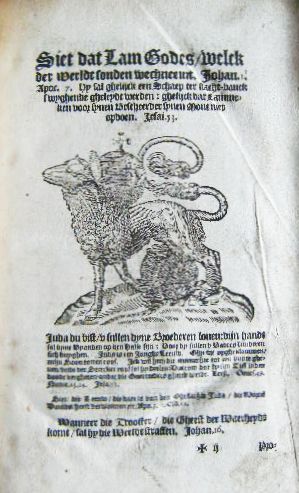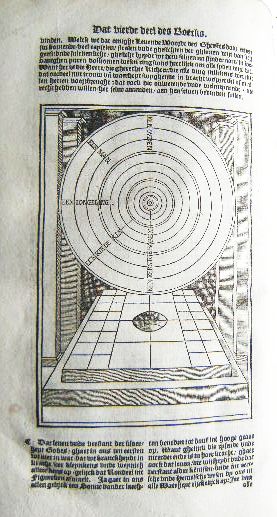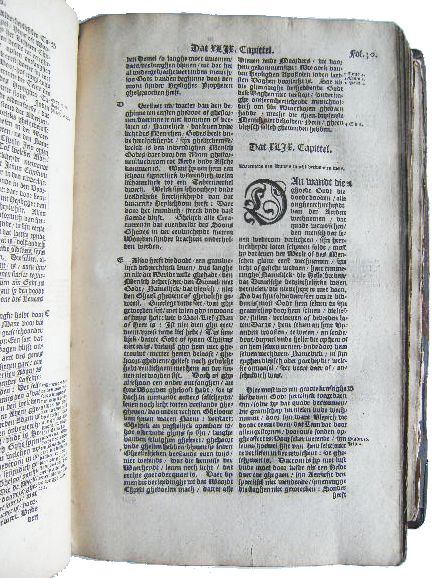 Third edition, a literal reprint of the much enlarged second edition published in 1584 in Vianen by the same printer. Both the second and the third edition were published without name of place or printer and were dated 1551, no doubt because of its hazardous contents. First published in 1542-44 in Deventer by Dirk van Borne.
The Book of miracles is the chief book of David Joris, a glasspainter by trade and the most important leader of Dutch anabaptism in the 1530's after the debacle of Munster. He strongly rejected violence and consistently advocated a peaceful approach, but he also represented a dangerous mysticism which could, and indeed did among some of his many followers, result in libertinism. Joris book provoked a heated dispute with Menno Simons, who considered him a false prophet, 'deceiver and falsifier of the divine truth' in stead of holding to the Scriptures. Joris also defended unrestricted religious liberty and during his stay in Basel stood up for the pitiable Michael Servetus. Not surprisingly he was a long-life fugitive, and though he was buried with full honors in Basel his corpse and his books were publicly burned three years afterwards.
*Van der Linde 58. TB 5644.


---
MANGOLDT, Hans von
(1824-1868)
Grundriss der Volkswirthschaftslehre. Ein Leitfaden für Vorlesungen an Hochschulen und für das Privatstudium.
Stuttgart, J.Engelhorn 1863.
XVI,224p. Contemp. half cloth, corners worn. Small name stamp ('E.Baumstark') on title, library bookplate to front paste-down. Two pages with mild brown offsetting from an inserted leaflet. (#24097)
€ 1500

First edition. Mangoldt was a civil servant and professor of political science and economics at Göttingen and Freiburg and according to Schumpeter 'among the century's most significant figures in our field'.
This is one of his two important contributions to economic theory (the other being Die Lehre vom Unternehmergewinn of 1855). 'It was a comprehensive but highly compressed work, which stands out not only for its path-breaking discussion of price formation but also for its liberal use of geometric diagrams, including the Marshallian cross of demand and supply. No doubt, Cournot, Dupuit and Gossen had been there before him but there is no evidence that Mangoldt knew anything of their writings.'
There was a second edition of this in 1863, but Schumpeter points out that that edition 'leaves out the most original element in it, namely the geometrical apparatus that Mangoldt devised for the theory of international values; but Edgeworth brought it to light again'.
*Schumpeter p. 503-504. M.Blaug, Great economists before Keynes, p.148.

---
MARPERGER, Paul Jacob (1656-1730)
Schlesischer Kauffmann, oder: ausführliche Beschreibung der Schlesischen Commercien, und deren ietzigen Zustandes; sonderlich wie des Hertzogthums Ober- und Nieder-Schlesiens vortreffliche Situation ... ein grosses zu deren Auffnahm contribuiren, und noch fernerhin beytragen könnten. Wobey zugleich auch die wahre Beschaffenheit der Oder-Fahrt ... wie auch ein vollkommener Unterricht von den Schlesischen Müntzen, Maassen, und Gewichten ... mit beygefüget wird.
Breslau und Leipzig, Michael Hubert 1714.
Small 8vo. [XXIV],711p. Modern half vellum, red edges. Title printed in red and black. (#33783)
€ 2250
First (only) edition. An exhaustive description of Silesian commerce, including chapters on its geography, government, natural resources, mining, the trade in flax, yarn, canvas, wool, leather, salt, tobacco, etc., its weights and measures, currency exchange, trade fairs, customs, traffic, etc.
*Kress S.2669. Humpert 329.
---
MARPERGER, Paul Jacob (1656-1730)
Trifolium mercantile aureum, oder dreyfaches güldenes Klee-Blat der werthen Kauffmannschafft, bestehend: 1) In des Autoris seinen wohlgemeynten Vorschlag von einer neu zu eröffnenden Kauffmanns-Academie. 2) Einem vollständigen Collegio über die Wissenschafft der Commercien, und 3) Einer lehrreichen mechanischen Werck-Schul ...
Dresden und Leipzig, in Verlegung des Autoris 1723.
Small 8vo. [XIV],343[i.e. 345, p.142/143 twice],[15]p. With an engraved frontispiece. Recent decorated boards, back with gilt green label. (#20366)
€ 1250
First (only) edition. A project for the establishment of institutions for the education of children and adults for technical and commercial professions. A rare volume by this prolific author of works on commerce and trade.
'In it, he sketched out his "well-intended suggestions" for opening a merchant academy, a commercial college (also referred to as a
Mercantilische Informations-Collegium
) and a variety of mechanical work schools in Saxony. His suggestions hinged upon a diagnosis of the problems currently besetting the existing educational establishment, which Marperger insisted were many. Opportunities to learn about Commercia, or commercial wares and things, did not exist at universities. Throughout Saxony, merchants, mechanics and handworkers were treated as foreigners, their expertise unappreciated, not to mention the fact that they tended to know very little about the commercial theories underlying the professions they practised ... The
Trifolium
contained a kind of early blueprint for elaborated training programmes for young miners, mechanics, engineers or other "artisanal experts"' (Kelly J. Whitmer,
Projects and pedagogical expectations: Inside P. J. Marperger's 'golden clover leaf' (Trifolium), 1700–1730
).
*Kress S.3093. Humpert 5245. There were reprints of this in 1990 and 1997.
---
MEES Azn,G.

Historische atlas van Noord-Nederland van de XVI eeuw tot op heden.
Rotterdam, Verbruggen & Van Duym 1865.
Folio. Met lithografische titel en 14 dubbelbladige handgekleurde lithografische kaarten met telkens 9 tot 37p. tekst. Orig. blind en goud gestempeld linnen met groen leren rug met vergulde titel. Een fraai, zo goed als vlekkeloos ex. (#16495)
€ 375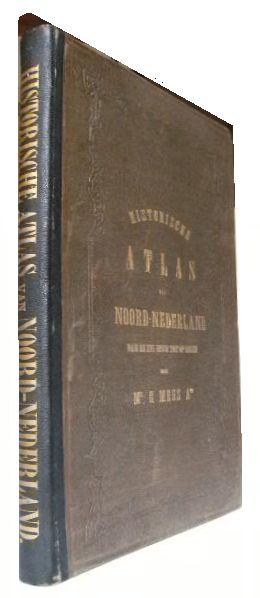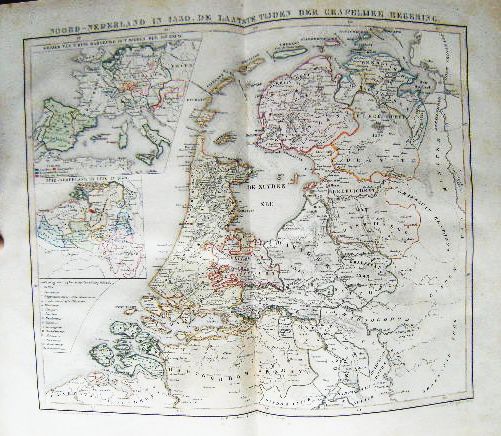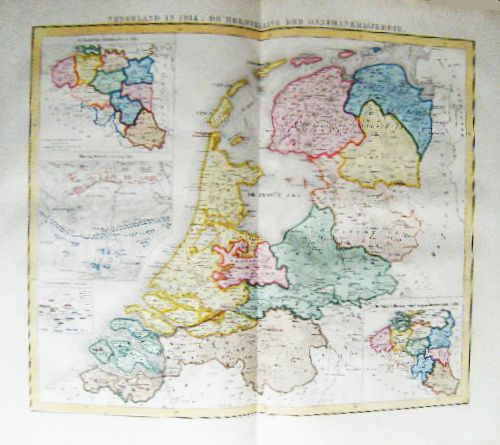 Eerste druk van de eerste historische atlas van Nederland, oorspronkelijk uitgegeven in afleveringen tussen 1851 en 1865. *Koeman II, Mee 1, p.274, en erratum VI, p.208. De Buck 647.


---
MONTESQUIEU, Charles Louis de Secondat de (1689-1755)
De l'esprit des loix, ou du rapport que les loix doivent avoir avec la constitution de chaque gouvernement, les moeurs, le climat, la religion, le commerce, &c. A quoi l'auteur a ajouté des recherches nouvelles sur les loix romaines touchant les successions, sur les loix françoises & sur les loix féodales.
A Leyde, chez les Libraires Associés 1749.
2 volumes in 1. 4to. VIII,[XVI],369, [II],396[misnumbered 306],[14 index & errata]p. Contemp. calf, gilt back with label, marbled endpapers, red edges. 'JRB' in ink to title. Occasionally some light foxing but a fine copy. (#31088)
€ 750

---
A major contribution to the theory of probability
POISSON, Siméon Denis (1781-1840)
Recherches sur la probabilité des jugements en matière criminelle et en matière civile, précédées des règles générales du calcul des probabilités.
Paris, Bachelier, 1837.
4to. [IV],IX,[3],415p. Contemp. boards, back with green label, rubbed. Some foxing throughout. (#34445)
€ 1000
First edition. Poisson's
Research on the probability of judgments in criminal and civil matters
is his major contribution to the theory of probability. Poisson was the principal successor to Laplace and he largely followed the latter's position. He is now best remembered for his emphasis to the 'law of large numbers', now called
Poisson distribution
.
*Stigler p.182-194.
---
RODBERTUS-JAGETZOW, Johann Karl (1805-1875)
Zur Erkenntniss unsrer staatswirthschaftlichen Zustände. Erstes Heft: Fünf Theoreme [all published].
Neubrandenburg and Friedland, G.Barnewitz 1842.
VIII,175,(i.e. 177, p.90b and 90c inserted after p.90a),[1 errata]p. Contemp. half cloth, gilt back, marbled sides, decorated endpapers. Vague call number at foot of title, there underlaid, some scattered brown spots, small stamp at foot of last and another page, old pencil scribbling on errata-leaf and rear free endpaper. Still a good copy. (#24051)
€ 600
First edition. One of the earliest andmost important publications of the author, a pioneer of the theory of state socialism. Rodbertus, known as Rodbertus-Jagetzow from the name of his Pommeranian estate of Jagetzow, was a major figure in the development from utopian to scientific socialism.
Rodbertus defended the Ricardian labor theory of value and was also influenced by Sismondi. 'For Rodbertus, labour was the only true source of productive wealth. His fundamental proposition, taken from Ricardo, was that the working-classes would always receive only a subsistence wage: the "ron law" of wages. Hence, any growth of national income would inevitably increase the share of rent and profits, whereas the proportion going to wage-earners would fall. This in turn would produce recurrent economic crises as consumption would fail to match output due to lack of demand. Rodbertus may thus be considered as a continental forerunner of underconsumptionist theorists.'
*Kress C.5941. Goldsmiths' 33076. Einaudi 4806. Humpert 8130. New Palgrave IV,p.218.
---
The 'Northeastern part of Siberia, the Ice-Sea, the Eastern-Ocean and the Northwestern coast of America'
SARYTSCHEW [SARYCHEV], Gawrila
(1763-1831)
Reis in het Noordoostelijke Siberie, en op de IJszee en den Noordoostelijken oceaan. Uit de Hoogduitsche vertaling van Johann Heinrich Busse overgezet door N. Messchaert.
Amsterdam, Johannes Allart 1808.
2 volumes in 1. [II],XXXII,190; III-X,334p., wanting half-title to volume 2 as usual. With a large folding engraved map (78 x 47 cm) of the 'Northeastern part of Siberia, the Ice-Sea, the Eastern-Ocean and the Northwestern coast of America', 5 engraved plates coloured by hand, 10 folding engraved plates, and a folding table. Small tear (c.5 cm) in the map. Contemp. half calf, marbled boards, extremities and joints somewhat worn, edges dust-soiled. (#38245)
€ 1950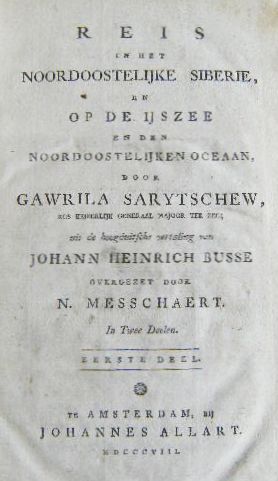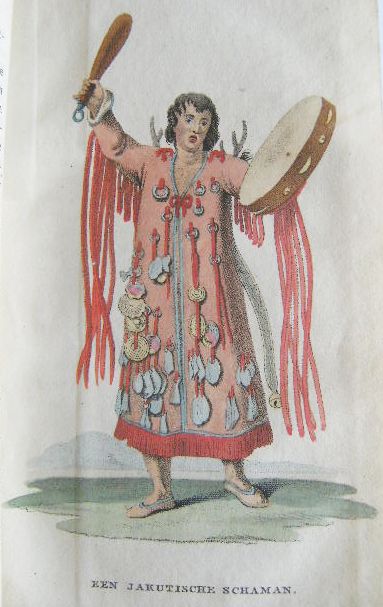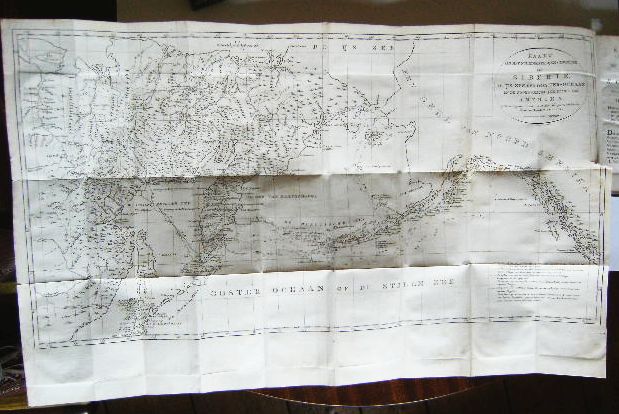 First (only) Dutch edition. An account of the Russian expedition in search for the Northeast Passage to Northeastern Siberia, the Polar Sea and the Northeastern Ocean during the years 1785-1794. The expedition was headed by Joseph Billings, an English navigator in the service of Catherine II, assisted by Sarychev. The expedition greatly contributed to the mapping of the Chukchi Peninsula, the West Coast of Alaska and the Aleutian Islands.
The original Russian edition appeared 1802. This Dutch edition was done after the German translation of 1805-06. An abridged English edition appeared 1806.


---
SAVARY, Claude Etienne
(1750-1788)
Brieven over Egypte; in welken de zeden van 's lands oude en hedendaagsche inwooners met elkander vergeleeken, en de tegenwoordige staat des lands ... beschreeven worden. Uit het Fransch in 't Nederduitsch overgebragt. Met de aantekeningen zoo van ... Johan Gottlieb Schneider ... uit den Hoogduitschen druck ontleend, als van den Nederduitschen vertaaler, vermeerderd.
Amsterdam, Martinus de Bruijn 1788-89.
3 volumes. XVI,446; XVI,364; XIV,390p. With 2 folding maps, a folding plan of Alexandria and a folding plan of the interior of the Great Pyramid. Early nineteenth-century half cloth, gilt backs, marbled sides. Book plate to front paste downs. A nice set. (#38354)
€ 350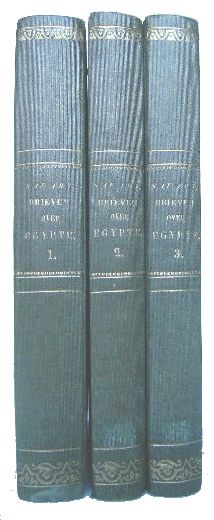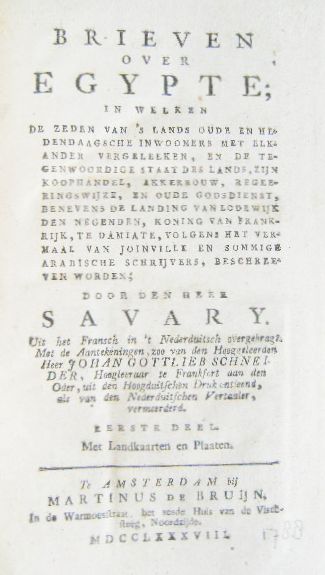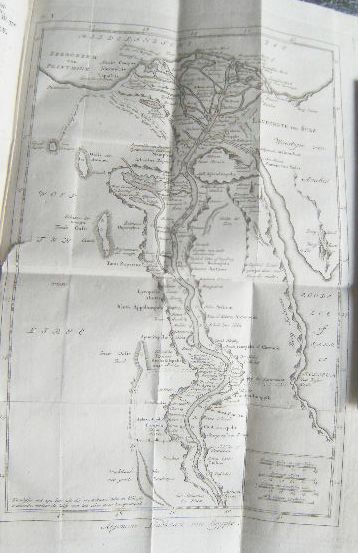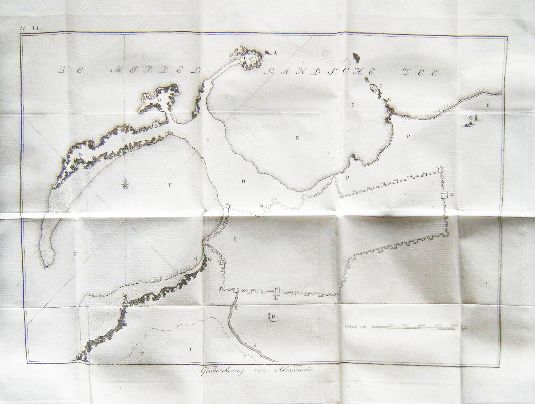 First (only) Dutch edition of the author's Lettres sur l'Egypte (1785-86), translated after Schneider's annotated German edition. The (anonymous) Dutch translator has included the notes from that German translator.
Savary was a French orientalist and traveler, translator of the Quran and author of a posthumously published Arabic grammer. These literary letters give an exhaustive survey of ancient and contemporary Egypt. The first two volumes relate his travels in Egypt where he visited places like Alexandria, Rosetto, Bulak, Cairo, Damietta, Tamieh, Faiyum, Dendera, and Thebe. He includes details on the ancient and modern history of the country, its geography, inhabitants, customs, daily life, trades, politics, architecture, etc. The major part of the third volume is dedicated to the religion and mythology of the Egyptians.


---
SCHLETTWEIN, Johann August
(1731-1802)
Les moyens d'arreter la misere publique et d'acquitter les dettes des etats.
Carolsrouhe [Paris], Michel Macklot 1772.
Small 8vo. 96p. With engraved allegorical vignette on pages 3 and 5, and tail piece on page 6. Uncut in contemp. decorated boards. First leaves a bit yellowed, stain in margin of 2 or 3 leaves. An old hand added his(?) name to the first paste down, and used the margins of the title, verso and page 3 to repeat the author's name and the title etc. Still an unsophisticated good copy. (#23523)
€ 950

First (only) edition. Schlettwein was the major representative of physiocracy in Germany. He had studied 'cameralistic sciences' in Jena and initially held orthodox mercantilist ideas. His interest in physiocracy aroused when he entered in 1770 into the service of the margrave Karl Friedrich von Baden-Durlach. The margrave entrusted him with the introduction of reforms based upon the new principles in the village of Dietlingen (near Durlach), where he among other things abolished serfdom and the guild system.
This is his only book written in French, according to a notice at the end finished in August 1771 in Paris, where he had gone in the company of the margrave to meet the 'économistes' personally. The next year he left the service of the margrave and went to Basle where he helped his friend Isaac Iselin with the publishing of the important physiocratic journal Ephemeriden der Menschheit. In 1777 he was honoured with a professorship at the newly founded Oekonomische Fakultät in Giessen which he held unto 1785.
*Kress 6899. Palgrave III,p.361. Schumpeter p.227.

---
[SCIALOJA, Antonio
(1817-1877)
]

Carestia e governo.
[Torino, tip. Gius. Favale e Comp. [1854].
61,[2]p. Orig. printed green wrappers, somewhat creased and frayed. The author's name printed at end and added in ms. on the upper wrapper, the printer's name at end only. (#40032)
€ 250

First edition. Scialoja's reputation is mostly based upon his I principj della economia sociale esposti in ordine ideologico of 1840, in which he stoutly upheld the principles of liberty at a date when Naples was the stronghold of absolutism and protection. He became a major figure in the development of its liberal economic and financial policy, serving as a minister of finance, agriculture and education in successive revolutionary governments.
His present Famine and government, 'written in the style of Bastiat, sparkles with controversial vivacity'. A second edition appeared in Napoli in 1861.
*Palgrave III,p.366. Not in Einaudi or Mattioli.

---
STIRNER, Max [Johann Kaspar Schmidt] (1806-1856)
Edinstvennyj i ego sbstvennost' [in Cyrillic]. [With a biography by M.Kronenberg. Translated from the German by V.Ulrich.]
St-Petersburg, Mysl & Leipzig, A.Miller 1906.
X,244,[1]p. With sketch-portrait by Friedrich Engels. Contemp. half cloth. Title with neatly closed tear, last 50 pages with a tiny (1-2 mm) hole. (#41326)
€ 750
One of two editions of the first Russian translation of Stirner's magnus opum
Der Einzige und sein Eigenthum
(1845), the 'bible of individualist anarchist literature'. Another edition dated 1906 appeared in Moscow, no priority known.
*WorldCat locates 2 copies of our edition (Staatsbibliothek Berlin and IISH Amsterdam) and 2 copies of the Moscow edition (Staatsbibliothek Berlin and University of Bern). It was apparently popular in Russia at the time because more editions appeared 1907, 1909 and 1910
---
[WICQUEFORT, Abraham de
(1606-182)
]

Verhael in forme van journael, van de reys ende 't vertoeven van den seer doorluchtige ende machtige prins Carel de II koning van Groot Britannien, &c. Welcke hy in Hollandt gedaen heeft, zedert den 25 Mey, tot den 2 Junij 1660. [
Bound with
:]
Robertus KEUCHENIUS
(1636-1673) Anglia triumphans. Sive in inaugurationem serenissimi, potentissimi ac invictissimi principis, Caroli II ... poëmation [
with half-title
:] Engelsche triomph, ofte gedichten van verscheyde poëten, op de herstellinge van Carel de II...
In 'sGraven-Hage, by Adrian Vlack 1660.
2 volumes in 1. Folio (41 x 26 cm). [IV],4,132, 34,32p., several errors in pagination. With engraved coat-of-arms of Charles II on both titles, 2 engraved headpieces, and 6 double-page engraved plates by David and Pierre Philippe and Theodor Matham after J.Toorenvliet and A. van de Venne. Contemp. blind- and gilt tooled vellum, gilt edges, some light soiling, corners slightly worn. Without the portrait. (#32147)
€ 1500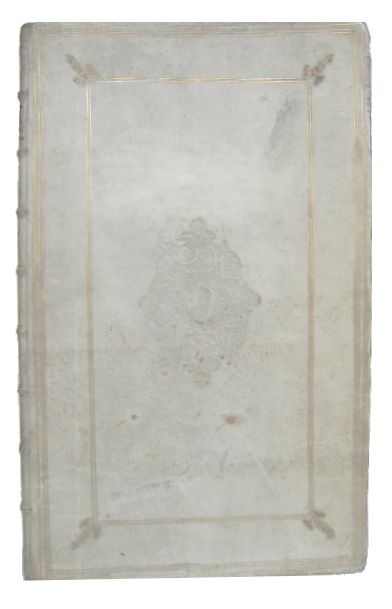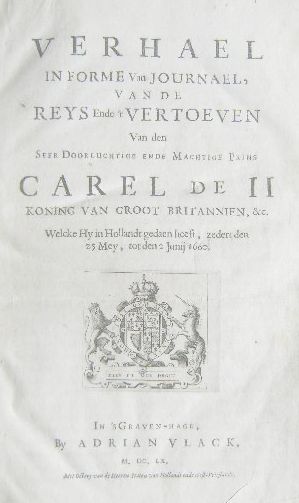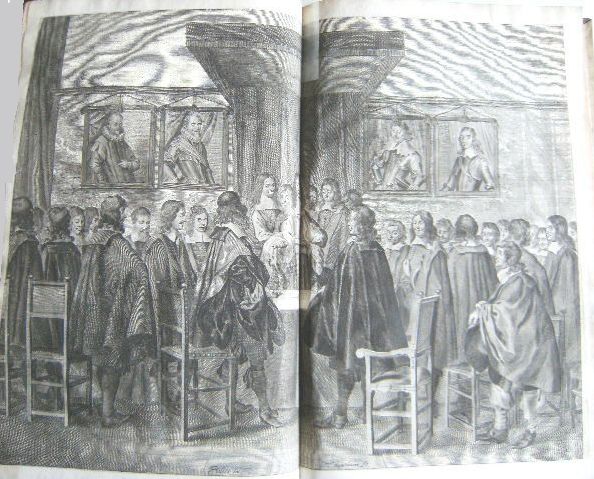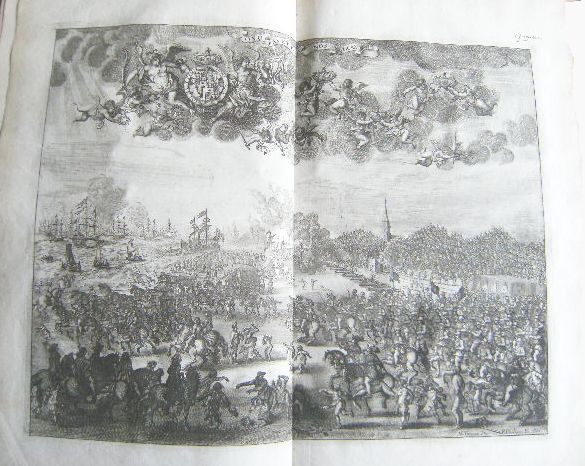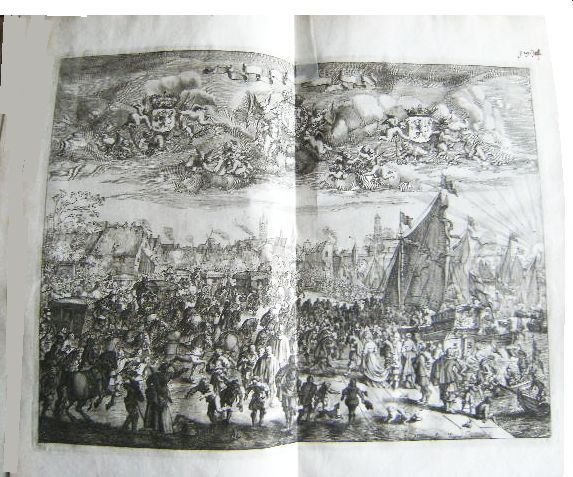 First edition. A splendidly illustrated acount of Charles II's travels through the Netherlands from Breda, where he had lived during his exile, to the port of Scheveningen, to regain the Crown of England. Charles was enthusiastically applauded and 'the cities were too small to house all the people who desired to see the new king.'
The plates show Charles's arrival in Delft, his arrival in The Hague, a banquet at the Mauritshuis offered by the States of Holland, Charles address to the States General, his address to the States of Holland (here in Muller's state b), and his departure from Scheveningen.
This was also published in French and English (translated by Sir William Lower), by the same publisher and with the same plates.
*Landwehr, Splendid ceremonies 126. Muller, Nederlandse historieplaten 2156.


---
MARX, ENGELS and LENIN



---
MARX, Karl
(1818-1883)
Kapitaal en arbeid. Bewerkt door F.Domela Nieuwenhuis.
's Hage, gedrukt bij Liebers & Co [upper wrapper: Gravenhage, Liebers & Co., 1881].
VIII,87p. Orig. red printed boards, damaged at back and loosening. (#17890)
€ 750

Second edition, first printed earlier the same year. The first appearance of Das Kapital in Dutch, though in a very concise form. Ferdinand Domela Nieuwenhuis (1846-1919), a theologian by education, was the major founder of the Dutch socialist movement and the first socialist member of the Dutch parliament. By the end of the century he became disappointed in state socialism and parliamentarism and for the rest of his life propagated social-anarchism and atheism.
Though Marx showed his appreciation for the present volume, his annotations in a copy presented to him were highly critical. It nevertheless acquired international fame with translations into German (published in New York 1887), Danish (1888, and again 1897 and 1904 ), Swedish (1906) and Norwegian (1920)
A genuine translation of (the first nine chapters of) the first volume, translated by the Dutch Marxist Franc van der Goes, did not appear before 1901. A complete Dutch translation of the first volume was published in 1910.
This second edition differs from the first in number of pages (the first counting VIII,82 pages) and the imprint. It is also printed on slightly better paper.
G.Nabrink, Bibliografie van, over en in verband met Ferdinand Domela Nieuwenhuis, p.48, 98.2.

---
MARX, Karl
(1818-1883)
Salaires, prix, profits. Traduction par Charles Longuet.
Paris, V.Giard & E.Brière 1899.
Small 8vo. 104p. Orig. printed yellow wrappers, somewhat stained, back damaged. Signature in corner of first text page. (#24910)
€ 125

First separate French edition, translated after the German edition of 1889. Lectures delivered at the General Council of the International Workingmen's Association on 20 and 27 June 1865 with the title Wages, price and profit. It was first published in a German translation by Eduard Bernstein in the Neue Zeit of 1889, with the title Lohn, Preis und Profit. It first appeared in book form in 1898, edited by Eleanor Marx and Edward Aveling after the English manuscript, with the title Value, price and profit.
*Rubel 625. Draper 971.

---
LENIN, Nikolai [Vladimir Ilich Ulyanov]
(1870-1924)
& [Petr MASLOV
(1867-1946)
]

Ob agrarnoi programme. Otvet na kritiku nashego proekta programmy [
in Cyrillic
]. [
At head:
] X. Zum Agrarprogramm. - Lenin. Antikritik.
Zheneva, Ligi Russkoï Revoliutsionnoï Sotsial-demokraticheskaia Rabochaia [Geneva, League of Russian Revolutionary Social-Democratic Workers] 1903.
Small 8vo (17,5 x 11 cm). [II],42,[4]p. Small margins, but no loss. Title with small paper flaw in inner margin of title, no loss of text. Contemp. cloth-backed marbled boards. Preceded by a work by Friedrich Engels. (#28552)
€ 850

First edition. Published in the year of the split between the Bolshevik faction headed by Lenin and the Menshevik faction headed by Julius Martov. The present discussion on the agrarian program, Lenin defending nationalization and Maslov municipalization of the land, was 'one of the main issues that divided both parties'.
*Zaleski 1457. Dekker & Nordemann Antiquarian Department, Catalogue 26 (1980): The two Russian revolutions. The libraries of Leon Bernstein and Boris Souvarine 746.
Bound with: Friedrich ENGELS (1820-1895) Krest'ianskii vopros vo Frantsii i Germanii. [Translated from the German by V.Perovaja. Edited and with the foreword by G.V.Plekhanov.] [in Cyrillic]. [At head:] Die Bauernfrage in Frankreich und Deutschland. Zheneva, Rossijskoj Social'demokraticeskoj Rabocej Partii [Geneva, Russian Social Democratic Workers' Party] 1904. 40p. Stamp on title.
First Russian edition. Originally published as an article in Die Neue Zeit, volume 12, 1894-95, p.292-306.
*Zaleski 1594.

---
LENIN, Nikolai [Vladimir Ilich Ulyanov]
(1870-1924)
Vpered [
at head
:] En avant. Nr 1-18 [all published]. [
And
:] Proletarii [
at head
:] Le prolétaire. Nr 1-26 [all published]. [
In Cyrillic.
]
Zheneva, Rossijskoj Social'demokraticeskoj Rabocej Partii [Geneva, Russian Social Democratic Workers' Party] 1905.
Large folio (44 x 30 cm). Issues between 4 to 8 pages. Bound in 1 volume half cloth, one issue loosely inserted. Printed in triple columns on varying types of paper. (#14014)
€ 5000



Complete runs of these weekly Bolshevik newspapers published in Geneva. After the Second Congress of the Russian Social Democratic Labour Party in 1903 the Mensheviks seized control of its journal Iskra. In December 1904 Lenin and his comrades Vorovskii, Lunacharskii and Krupskaia decided to publish a new journal. It continued the revolutionary tradition of the Iskra and played an important role in the fight against Menshevism. It was the first Bolshevik weekly newspaper. Lenin contributed many leading articles. The Vperedwas published from January 4 to May 5, 1905. It was continued by the Proletarii, from May 27 to November 25.
'The significance of Vpered in the history of the CPSU is defined by the fact that the paper was an ideological-political organ abroad that cooperated with the practical organ in Russia - the Bureau of Committees of the Majority - to give political and organizational shape to Bolshevism. Vpered played an outstanding role in the struggle against Menshevism, the creation of a new kind of party, and the preparation of the Third Congress of the RSDLP. At its 22nd session, the Third Congress instructed the Central Committee to establish a new central organ of the party; it was to be called Proletarii. In a special resolution concerning Vpered, the congress took note of the paper's role and significance and expressed its gratitude to the editorial board for its pioneering and energetic revolutionary activity (KPSS v rezoliutsiiakh, 7th ed., part 1, 1954, p.86).'
*Zaleski p.332 & 325. Dekker & Nordemann Antiquarian Department, Catalogue 26 (1980): The two Russian revolutions. The libraries of Leon Bernstein and Boris Souvarine 753 & 754.